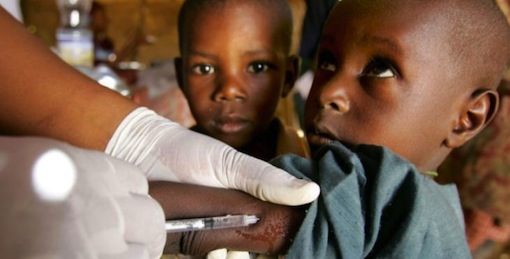 No fewer than 3.6 million children are being targeted in the Lagos State Government's 2018 Mass Measles Campaign, to protect them and reduce the burden of the disease.
Dr Iyabo Aare, Permanent Secretary, Lagos State Primary Healthcare Board, made the disclosure during a Media Orientation Programme on Measles on Monday in Lagos.
The Measles Campaign Vaccination is scheduled to start on March 15 and end on March 29 in all health facilities in the state and designated posts in communities.
Aare said the measles campaign was targeted at immunising children of nine months to five years, as well as eligible children, irrespective of previous vaccination history.
She said that during the previous measles campaign in 2015, the state met 86.2 per cent of the expected 95 per cent coverage target.
According to her, the state could not achieve optimal coverage due to some resistant groups, including churches, mosques and estates where vaccinators were not allowed to vaccinate children.
"This campaign is in collaboration with UNICEF, WHO, the National Primary Healthcare Board Development Agency and other partners.
"This campaign is very important for our children to protect them from this killer disease, to secure them because they are our future," she said.
Dr Charles Nwosisi, Health Specialist, UNICEF, in his comments, said Nigeria ranked number one for being the most unimmunised for measles vaccine 1st dose, with 3.3 million children as compared to India with 2.9 children.
Nwosisi said that Nigeria is also 192 out of 200 countries in global ranking for measles vaccination coverage.
According to him, measles vaccination coverage in 2016 was below the 95 per cent coverage target as Nigeria met 51 per cent coverage.
"This 2017/2018 campaign has been tagged: "Catch-up" campaign; it is to mop-up or reach children that have been missed over the years, so as to meet the 95 per cent target coverage, " he said.
Dr Olubunmi Akinlade, Immunisation Programme Officer, Lagos State, described measles as a dangerous disease caused by a virus and one of the leading causes of death among young children.
Akinlade said that measles could cause blindness, death and reduce a child's ability to fight other diseases, resulting in frequent illness.
"When a child shows signs of measles such as high fever, redness of eyes, running nose and rash; take the child to the nearest health facility immediately, " she said.
Mrs Modupe Owojuyigbe, Director, Health Education, Lagos State Primary Healthcare Board, said it was important for children to receive immunisation during the campaign to be fully protected against measles.
She said that the campaign would run from March 15 to 29 at all government healthcare facilities and designated vaccination posts in communities.
"The vaccines are safe, free and not harmful to children; a child that does not complete his routine immunisation is half protected.
"The best protection against measles is to be vaccinated and complete one's routine immunisation; vaccination will save more lives," Owojuyigbe said.
In her remarks, Mrs Esther Fadele, Lagos State Coordinator, National Primary Healthcare Development Agency, said that the media is critical to achieving the national target.
She urged the media to write data-based stories and report their stories from informative point of view, to educate and enlighten Nigerians on the measles campaign and help to ultimately improve health services in the state.