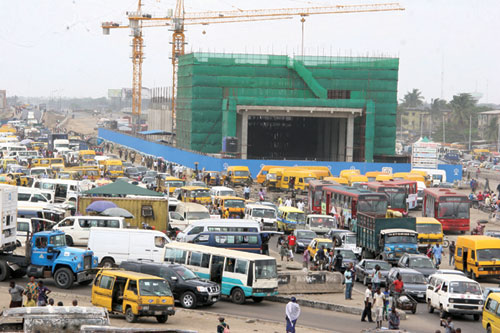 As reconstruction and expansion work progresses on the ever-busy Lagos-Badagry expressway, motorists on the axis are complaining about the perennial gridlock on the road.
A visit to the construction area showed that various construction activities like excavations and construction of drainages were ongoing.
The pedestrian bridge at the Lagos State University (LASU) has been pulled down, while part of the fence was also demolished, to make way for the road expansion.
Some motorists, however, lamented the worsening gridlock on the road.
Yusuf Sani, a road user, complained about the loss of man-hours on the road.
"I have been on this spot (LASU) for more than two hours and I have lost so much valuable time because of the ongoing construction work here.
"It would be more effective if the construction company can device means to effectively control the traffic, while they continue their work," he said.
Dele Abbas, another road user, also complained about the gridlock.
"Expanding this road is a good idea but the suffering is becoming unbearable. Even when we leave home early, we still get to work late.
"The construction company and the Lagos state government should do something about this," he said.
Mrs Bukola Alagba, a businesswoman, advised the contractors to increase the pace of work to ensure that the project ends on time and is delivered on schedule.
"My advice is that the contractors should take full advantage of this dry season to make as much progress as possible on this road, so that this gridlock will abate," she said.
An official of the China Civil Engineering and Construction Company (CCECC), the project contractors, who spoke on the condition of anonymity, said the company was taking steps to stem the plight of users of the road.
He, however, urged motorists on the road to obey traffic rules and maintain decorum, to ensure free-flow of traffic.
"The gridlock on that road is actually worrisome and it is also slowing down our job by delaying movement of men and materials to the sites.
"I urge the road users to maintain decorum and stop the idea of driving against traffic.
"Traffic control officials on the road have been doing well but they should do more to effectively manage the traffic in the interests of both the road users and construction workers," he said.