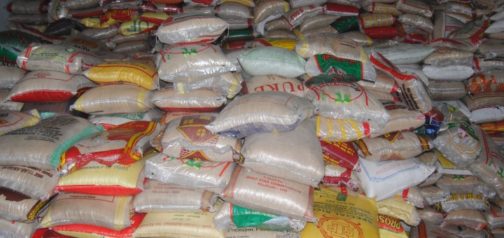 By Mustapha Ogunsakin
Nigeria's Minister of Agriculture and Rural Development, Chief Audu Ogbeh, must by now have understood what it means to fight the rice mafia in Nigeria. For about a week now, he has been in the eye of the storm over comments reportedly credited to him, relating to the fact that seven rice mills had closed shop in Thailand on account of the drop in the importation of rice by Nigeria.
Apart from the response of Thailand Ambassador to Nigeria, Wattana Kunwongse, denying remarks that rice mills are collapsing in the Asian country; many people had gone to town, particularly on the social media, to castigate the minister for telling lies. This was done rather than viewing the statement credited to the minister in the context that Nigeria is involved in a trade war that dates back many decades.
Kunwongse, in a statement, said: "The report is not only misleading but a distortion of the actual conversation between myself and the honourable minister of agriculture at the federal ministry of agriculture and rural development." He narrated how he "praised President Buhari's Economic Recovery and Growth Plan (ERGP), the essence of which is the endeavour to move the country to a self-sufficiency and export-oriented economy, and to that worthy cause, Thailand stands ready to work closely with the Nigerian government in the field of technological transfer and agricultural machineries."
It seems relevant and necessary to ask how the exporting country hopes to benefit from assisting an importing country in technological transfer and agricultural machineries that will end up stopping the latter from continuing to depend on the former. Some issues raise questions of correlation and causation. What the ambassador did not explain is how his country exported 1,647,387 metric tonnes of rice to Republic of Benin in 2017 alone. Mr Kunwogse also did not mention that Thailand's export of rice to Benin Republic has been steadily on the increase, 805,765MT in 2015, and 1,427,098MT in 2016, while official export from Thailand into Nigeria was steadily declining.
Nigeria has an estimated 180 million people while the population of Republic of Benin is about 11 million people. In 2014, 1,239,810MT was imported into Nigeria. It declined to 644,131MT in 2015, and to 58,260MT in 2016, reaching an all-time low of 23,197MT in 2017, and if this trajectory remains on a downward path, Nigeria may not be importing rice by 2020. The flow of rice exported from major Asian origins to Benin for onward shipment to Nigeria is a factor that should not be ignored in the regional rice trade in West Africa.
ECOWAS data indicate that over half of the rice Benin imports is sold into the Nigerian market. Port of Cotonou statistics show about 2.4 million metric tons (MMT) of cereals arriving at the port in 2014, over half of which is rice. USDA data shows about 700,000 MT of net rice and wheat imports, coming under lower duties, another reason for the large volumes of cereals transiting from Benin Republic to Nigeria. Rice is by far the most important commodity for the Benin Food Importers Association.
This should be a cause for concern as Nigeria consumes parboiled rice exclusively, but Benin prefers white rice. Rice consumption in Nigeria is almost entirely of parboiled rice. In West Africa only Nigeria consumes parboiled rice. Other West African countries, including all the neighboring countries to Nigeria (Niger, Benin, Cameroon, Chad) are not consumers of parboiled rice. In Africa only South Africa is the other major country that consumes parboiled rice.
The shipments of parboiled rice from India and Thailand into Lome, Cotonou and Douala ports is a very fair estimate of smuggled rice into Nigeria as none of these countries have internal consumption of parboiled rice. All the parboiled rice exported to these countries finally find their way into Nigeria. Consumption of parboiled rice by Nigeria's neighbours like Togo, Sierra-Leone, and Niger Republic is not significant as parboiled rice is not part of their staple food. So where is this humongous rice import meant for?
Smuggling of parboiled rice from across the borders (mainly Benin Republic) is creating a major disaster for the rice industry in Nigeria and is upsetting the country's economy. Will it then be correct that the exporting country is involved in the smuggling by proxy? These neighboring countries don't consume parboiled rice! Details on this argument can be found on: https://www.proshareng.com/ news/Agriculture/Smuggling-of- Parboiled-Rice-from-Across- the-Borders/37718 .
In a few weeks, Nigerians will celebrate Easter, a very important festival for Christians in Nigeria which celebrates the death and resurrection of Jesus Christ. It is the other season apart from Christmas that the demand for parboiled rice will reach its peak. Why is it now that the attack on the minister over importation of rice loudest? Much of the rice exported to Republic of Benin are expected to find their way into Nigeria at all cost, particularly through smuggling.
Investigations reveal that the rice gang has become so ruthless and sophisticated that they will stop at nothing to ensure that these goods get into the country. The smugglers who move in convoys of not less than 50 vehicles, are always battle ready and well equipped to kill anyone, including customs officials, who dare stop them. A case in point is January 17, 2018, when smugglers engaged custom officers in a gun battle at Abule-Egba, Lagos State, where the smugglers incited the people into a riot, claiming one of them was killed.
The attack on Chief Ogbeh therefore seems part of a ruthless campaign that has been going for years to ensure that Nigeria never reached self –sufficiency in rice production. Ogbeh's predecessor in office, Dr Akinwunmi Adesina, now President, African Development Bank(AfDB) was also fought to a standstill.
In July 2015, the government of Thailand announced that it has struck preliminary deals to export a total of 760,000 tonnes from its huge stockpiles to several countries in Africa. This announcement was made by the Thai Rice Exporters Association which said the rice will be supplied to Nigeria, Mozambique, and South Africa.
This was despite the restriction placed on importers of rice and other items from the official foreign exchange market by the Central Bank of Nigeria (CBN). Mr. Godwin Emefiele, the CBN Governor, had at that time bemoaned the high bill on rice importation which had resulted in huge unsold stock of rice cultivated by indigenous farmers as well as low operating capacities of the many integrated rice mills in the country.
But Reuters quoted Chukiat Opaswong, honorary president of the Thai association, in a phone interview from Johannesburg, saying most of the rice going to Africa is parboiled and shipments will start in September. The rice would be sold at around $430 a tonne netting the government more than $325 million, that is roughly N117 billion. Nigeria is one of the major importers of the commodity from Thailand, importing about one million tonnes of rice valued at about $700 million every year.
A research by Bloomberg then revealed that Thailand Government held around 17.8 milliom tons in stock piles and was keen on selling 10 million tons of stockpiled rice in 2015 and around seven million in 2016 through tenders. ("Thailand's rice export to the world in 20 January-December 2017 reached 11.48 million tons equalising $5.1 billion (USD), a 15.54 per cent increase compared to previous years, which is one of the highest figures in the history of Thailand's rice exportation). The stockpiling means the rice exported is not necessarily fresh as it is kept for years in stores and only drawn upon during the time of export.
In 2015, Dr Adesina fought the "Rice Cabal," a group of exporters of parboiled rice from Thailand and India, to a standstill. In 2014, he warned that "Nigerian government will not allow any company to undermine its policy of food self – sufficiency", and then added "Nigeria is not for sale".
For over a decade, a cabal of foreign rice importers has held Nigeria by the jugular, determining the quantity of rice to be imported into the country from Asian countries such as Thailand, and India. So much was their influence that they have no regard for government's quota of rice importation. These companies are so powerful to the extent of owing government N35.6 billion on duties from imported rice in 2014 alone, according to the former Minister. It is not clear whether these companies paid the tariff after the Buhari administration took over government.
In recent times, Nigerians have begun to patronise their own local rice which they have turned into delicacies, attracting higher prices than imported rice. Virtually all eateries across the country now serve local rice, one popularly called "ofada". Across the cities, women with coolers take the rice to offices and sell to ready customers who pay higher price.
Nigerians are also beginning to appreciate the nutritional value and taste of their own local rice as against parboiled rice that has been laced with preservatives and warehoused for years before getting to their destinations.
Nigerians living in the city of Lagos woke up in December 2017 to the cheery news of sale of local polished rice by Lagos State government. The product, christened LAKE RICE, was a product of partnership between Lagos and Kebbi states to ensure food security and showcase the ability of Nigeria to become a food-producing nation. Over a million bags was sold. It went a long way to reduce the price of rice during the festive period. Since then many state governments have formed joint partnership in the production of rice and other staple foods.
Foreign rice importing companies are therefore experiencing serious competition from patriotic Nigerian rice growers, farmers, and even state governments who have embraced government's rice policy and have become major investors in the local rice sector. Nigerians are taking the gauntlet and freeing themselves from shackles of dependency. Nigerians are feeding Nigerians.
The fear or competition by these Asian companies and their unwillingness to pay billions of naira to the treasury is what is driving a devious campaign against the rice quota allocations. For once, Nigeria is winning the rice rice war, and after Chief Ogbeh spoke to put this in context, hell was let loose.
Government's rice policy is geared towards encouraging investment in local rice production and milling as government has announced the plan to distribute more small mills across the rice production zones. As Easter festivities approach, the Nigerian authorities will have their hands full in controlling imported rice from finding their way into Nigeria through smuggling. Nigerian rice producers and the entire value chain will also need to make sure local polished rice reaches the nooks and cranny of the country. States like Lagos are also expected to control the huge Lagos market by selling at subsidised rate the way they did last December. Then the words of Audu Ogbeh will be understood that the Asian Tigers are at war with Nigeria and West Africa on rice, a war Nigeria and the West African sub region must win very quickly and permanently.