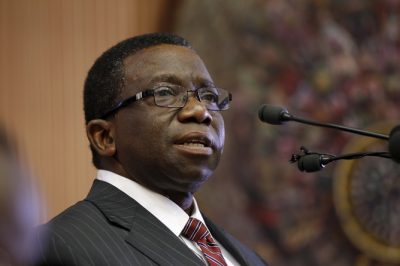 Rasak Musbau
Many Nigerians are still not getting their children fully immunized. They treat vaccinations with kid gloves in spite of serious challenges some diseases pose to child survival and endemic nature of such diseases in the country. Every minute one child under the age of 1 dies in Nigeria. Many of these deaths are from preventable causes especially from vaccine preventable causes, such as pneumonia, measles, malaria and diarrhea.
Though there has been a substantial decline in global measles death, Nigeria is still up on the chart of number of children not vaccinated against measles. Nigeria tops the list of countries with unvaccinated children from measles with 3.3 million children, followed by India – 2.9 million, Pakistan- 2.0 million, Indonesia- 1.2 million, Ethiopia-0.9 million, and DRC, with 0.7 million.
Despite the efforts of governments, World Health Organisation, WHO, and United Nations International Children Fund's (UNICEF's) measles-reduction strategy, and the partnership of other international organizations supporting measles reduction, certain states have continued to face recurrent epidemics.
In the light of the above, the current nation-wide measles campaign in the country provides an opportunity to look at this problem and to mobilize parents to avail children in the age range of 9 months to 5 years irrespective of immunization status to get vaccinated against measles infection. For instance, measles campaign has been ongoing in the 576 Primary Health Care Centres in the 18 Local Government Areas of Ondo States since 8th of March and will end on 20th of March. In Lagos, it will commence on 15th of March till 27th of the month. It is also continuing or scheduled to commence in many other States.
Measles infection and mortality was found to occur all year round irrespective of whether it was rainy or dry season, reinforcing measles endemicity in this part of West African. An airborne virus, measles is transmitted by respiratory droplets from the nose, mouth, or throat of an infected person and a leading cause of death among children world-wide.
What is worrisome to health authorities in the country and should be of serious concern to everyone is that the measles virus can spread in a person four days before the onset of the telltale rash, making people with the virus to become contagious ever before they are actually aware that they had measles. Another fact that makes measles virus really scary is that it can live on surfaces for up to two hours and in an unimmunized population, one person with measles can infect 12 to 18 others.
This is way higher than other scary viruses like Ebola and HIV. With Ebola, one case usually leads to two others while in the case of HIV; one case leads to another four. A person with measles can cough in a room, and — if you are unvaccinated — hours later, you could catch the virus from the droplets in the air that they left behind. This accounts for why everybody must be a change agent and social mobilizer propagating measles immunization rather than being merely contended after getting our own children vaccinated.
According to the Centre for Disease Control (CDC), the horrible mathematics of measles looks like this: one out of every 20 children with measles gets pneumonia; one in 1,000 will develop encephalitis (swelling of the brain); and one or two in 1,000 children will die. The optimal age for infantile measles vaccination is an important health issue since maternal antibodies may neutralize the vaccine antigen before a specific immune response develops. Delaying vaccination, on the other hand, may increase the risk of complicated disease. Getting only one dose of the vaccine instead of the recommended two also seems to increase people's chances of getting measles if they are ever exposed.
The question here is why is our case in Nigeria always different? Nearly, everyone in the U.S. got measles before there was a vaccine, and hundreds died from it each year. Today, most doctors have never seen a case of measles. More than 15,000 Americans died from diphtheria in 1921, before there was a vaccine. Now, there are no more cases of diphtheria in Trump's country. Americans have also recorded success in fighting rubella (German measles) that was epidemic there in 1964-65.
Learning about those successes, shouldn't we explore various reasons why we can eradicate measles and other childhood diseases here in spite of availability of vaccinations that are even free of cost to the care givers?
How we respond to the ongoing measles follow- up campaign taking place in all Primary Health Care Centres and other designated posts such as markets, bales houses, schools, churches, mosques etc will go a long way in defining value we place on the survival of our children. Parents need to take action by taking their children within age range to get vaccinated and get a card after vaccination. On the part of care givers, it should be known that child survival is not by accident. As such, everyone should avail of this opportunity to immunize against measles.
For governments across the country, more budgetary provision should be made for measles vaccination efforts in so that infrastructures will be in place that will also serve as a frame-work for other vaccine-preventable disease interventions, as the health institutions are weak at the primary and secondary levels, especially in remote and rural areas. Maintenance of cold chain for vaccines should also be a priority as temperatures vary, and so does the time taken to get to some vaccination locations which reduces vaccine quality as a result of thawing. Internally Displaced People at various camps in the country should also be covered by states where such exist.
Here, let's consider analogy of the care farmers give to plants in the first two years of planting to further explain importance of care needed by children at infant stage. In the first few days of a plant's life, especially when the first two tender leaves shoot out from the soil, extra care is taken to ensure that the nourishment required for sustenance is available; that protection is provided against potential pests, parasites, animals and other dangers. The farmer jealously watches over the tender crops to ensure that their future (which is tied to his own future too) is secured. If the crop is such that will need to climb e.g. yam, climbing beans, etc., the farmer begins to assemble stakes that will help the crop to find direction and to climb.
Parents go through almost similar process ,preparing for the baby's arrival. Once the baby arrives, the first two years are critical. Measure must be taken to ensure it gets the best care to help it grow -healthy (including immunization); as episode of sickness takes the child backwards.
The measles vaccine is known to be extremely safe and very effective. It contains a live but weakened version of the virus, and it causes the immune system to produce antibodies against the virus. Allowing our children to get vaccinated is to maximize their future well-being.
Musbau is of the Features Unit, Lagos State Ministry of Information & Strategy, Alausa, Ikeja
Load more