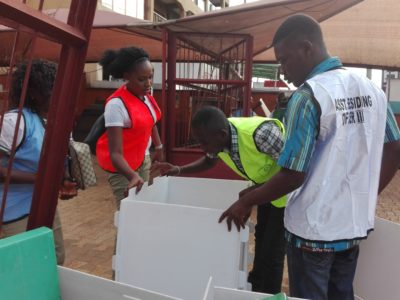 As part of preparations for the country's 2019 general elections, the European Centre for Electoral Support (ECES), on Monday in Lagos, commenced training of electoral officers on gender mainstreaming.
The one-week training with the theme: "BRIDGE Training on Gender and Election in Nigeria," is directed at desk officers of the Independent National Electoral Commission (INEC).
"BRIDGE" stands for Building Resources in Democracy, Governance and Elections.
Mr David Le Notre, the Project Director of ECES, said that the training was designed to encourage more Nigerian women to take active part in the electoral process.
"Records show that women demography makes up the largest chunk of voters' population, but the women in Nigeria constitute only 5.8 per cent of the political space.
"In 2015, only six women were appointed into the cabinet while there were seven female senators and six female deputy governors.
"Also in 2015, only one female contested for the presidency while four contested for vice presidency, one for governorship and five for deputy governorship.
"These are indicative of low participation of women in electoral processes and government," he said.
Le Notre said the training workshop would familiarise INEC desk officers with the concept of gender and its importance in election.
"I hope this workshop avails participants the requisite knowledge for effective gender mainstreaming in the Nigerian political space," he added.
Dr Adekunle Ogunmola, INEC's Chairman of Outreach and Partnership Committee, said that the workshop was one of the ways INEC adopted to build the capacity of its staff.
Ogunmola who is also a National Commissioner in INEC, said that the commission was committed to building an all-inclusive democracy.
"This course is aimed at equipping our desk officers with the capacity to carry out their duties of gender mainstreaming in the electoral process.
"It is one of the many ways the commission has adopted to build capacity of its staff.
"The commission is committed to building an inclusive democracy where equality and equity are guaranteed," he said.
His address was delivered by Mr Mutiu Agboke, the Resident Electoral Commissioner, Oyo State.
Load more