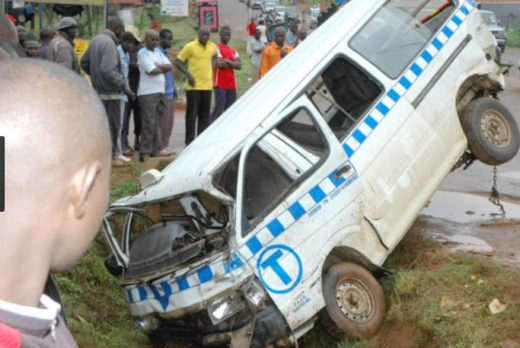 Guinness Nigeria Plc, a subsidiary of Diageo Plc has promised to embark on a four approaches aimed at reducing road crashes among the its fleet and other haulage companies.
The Customer Service and Logistics Associate Director of the company, Mr Akoji Amedu told newsmen that the company was more committed to safe driving among its fleet.
Amedu spoke against the backdrop of the company's ongoing Transport and Safety Week in which it is collaborating with Federal Road Safety Corps in Lagos.
He said that the company would stop at nothing in ensuring that drivers in the employ of the company strictly adhered to traffic rules and regulations and reduce crashes to the barest minimum.
"We are much committed to safety, we want our drivers to be safety conscious, hence, we have organised this type of programme which will not only benefit us, but the public as well.
"The slogan for the campaign is "Be SAFE which is Smart, Alert, Focused and Educated at all times.
"We need to take safety on our roads seriously and the campaign must start from within. Haulage drivers must know that they need to consider others during their transit,'' he said.
Amedu said that owners of haulage vehicles must ensure that their drivers were adequately educated on the need to keep the roads safe through continuous education, consultation and appropriate sanctions for erring ones.
"Drivers must be warned of drink-driving which makes the roads unsafe, hence they must be educated, consult with and where there is flouting of company's rules, appropriate sanction must follow.
"Guinness makes sure that its drivers are well educated on the need to obey all traffic rules and this should apply to all.
"We do strongly condemn drivers taking our products before their journey, our products are not for such and that is why we are always emphasising safety.
"We also don't encourage our drivers to do the same under the guise of working in the company, and we will not hesitate to dismiss any driver caught flouting traffic rules, we have a strong department for that,'' he said.
Meanwhile, Amedu had said in statement that Guinness Nigeria Plc, said that the aim of the Transport Safety Week was to restate the importance of safety both on and off the road.
"The Safety Week programme was put together to engage, educate and remind Guinness employees, particularly transporters of the importance of staying safe while at work and while driving on the roads.
"Safety is a way of life, the way we work, the activities we engage in. Safety should be our overriding focus. When our employees come to work, they should be able to return home safe.
"We believe that a single death caused by drinking and driving is one too many and can and must be prevented.
"We are encouraged that over the last few years, the number of alcohol-related fatalities has fallen significantly across the country,'' he said.
The statement said there was more to do, adding that the company was more committed to playing its role in eradicating the harm caused by drink-driving in Nigeria.
"Our Safety Week activities happen periodically, but the zero harm agenda is a continuous process, while we will continue to work with various stakeholders to deliver the goal of zero harm in work places,'' it said.
The Sector Commander, FRSC Lagos Command, Mr Hyginus Omeje, commended Guinness Nigeria for organising such a programme.
READ: FG urged to Secure fuel pipelines to improve movement of products around depots
He noted that this kind of programme would go a long way in entrenching safety among Guinness staff.
Omeje said that bad attitude of road users, coupled with low-level of road safety education and awareness was responsible for many road accidents.
"Studies have shown that the causes of road traffic crashes were road, vehicle, and human factors, with human factor recording 85 per cent.
"The Guinness many people see are the trucks. Whatever is being done with the trucks is the way the brand is perceived. Not everyone may know where Guinness' head office is located, or where the factories are.
"Hence, it is very important for the drivers to be well trained on the ethics of driving and staying safe on the roads,'' Omeje said.
"Guinness Nigeria has invested in several activities and initiatives of the Federal Road Safety Corps. In 2015 and earlier this year, Guinness Nigeria donated breathalysers to FRSC.
"The Transport and Safety Week programme which is ongoing is being organised in collaboration with stakeholders and will feature engagement sessions.
"Officials of the Federal Road Safety Corps, Medbury Medical Services, Fire Service, Nigerian Red Cross and the Media.
"The highlight of activities will be the Safety Road Walk on Friday.
It will be recalled that Diageo and United Nations Institute for Training and Research (UNITAR) had launched a two-year partnership in 2017.
"It is titled `Road Safety Initiative for Cities', with the aim of building individual and institutional capacity of stakeholders around the world to reduce traffic deaths and injuries.