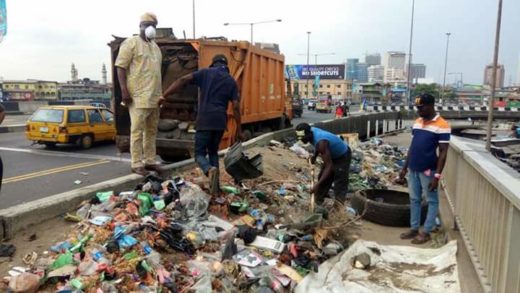 The Commissioner for the Environment, Mr Babatunde Durosinmi-Etti, says that Waste Collection Operators (WCO) have started carrying out free waste evacuation across the state.
Dorosinmi-Etti said in a statement on Thursday in Lagos, that the voluntary exercise was to demonstrate the WCO's resolve to work with the Lagos State Government and Visionscape Sanitation Solutions in addressing the current waste situation in the state.
He said that the free evacuation of waste across the state was the outcome of resolution between the government and the WCOs.
According to him, the move is meant to ensure that challenges being experienced in waste management across the state at present are addressed considerably within the shortest possible time.
He said that the Lagos State Government was committed to the removal of all problems militating against efficient waste management in the state.
The commissioner said that the free waste evacuation exercise took place simultaneously in the three senatorial districts of the state.
"For Lagos West; we took off in Agege, while the exercise takes off at Tapa Transfer Loading Stations and Alhaji Masha, Surulere, for Lagos East and Central respectively," he said.
READ: Replicate SDGs Global Festival at national, regional levels – Presidential aide
On behalf of the WCOs, Mr Hafis Kasumu was quoted as saying that they had a stake in ensuring a cleaner, healthier and safer Lagos.
Kasumu said that such was the primary motive of the Lagos State Government for envisioning the Cleaner Lagos Initiative as a holistic solution to waste management challenges in the state.
"As Lagosians, we have the responsibility to ensure that the new waste management system put in place by the administration of Mr Akinwunmi Ambode works for the benefit of all.
"This is why we support his vision and resolve to voluntarily carry out free moping of black spots every Thursday," he said.

Load more