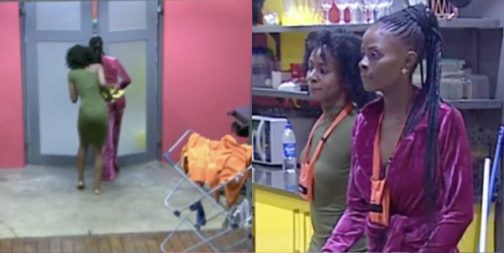 Some viewers of the ongoing BBNaija `Double Wahala' reality show, have expressed displeasure over lack of razzmatazz heralding the re-entry of Khloe and Anto, former evicted housemates.
The viewers who kept vigil to watched the housemates sneaked into the house at 3.am on Monday, said their expectations were dashed because they were looking forward to being wowed with` fever peak' reactions from the housemates who were sleeping.''
Famous Nigerian music producer Don Jazzy in his reaction on his official twitter wrote: "3am gang, somebody should go and wake biggie, 3am has past. #bbnaija
"Uncle Biggie it's a lie o. Better wake everybody up o. We didn't sleep, Is that it? #bbnaija.
Another handler, @jonah_b stated: "No biggy u need to wake them up o. So I stayed awake, set alarm, drank coffee for just this #BBNajia".
Also, Singer Dr Sid tweeted "So we woke up to watch them enter the house and sleep?!! This is jazz at the highest level #bbnaija".
Another handler @Pebble O, wrote; "Last night I stayed up til Khloe & Anto sneaked back into the house, after realising that there wouldn't be any action, I slept around 05:15, now I'm up again… I have truly suffered. #bbnaija.
However, at about 6:21a.m, at the sound of Biggie's wake up siren, Khloe and Anto, announced their return much to the delight of some the housemates.

Load more