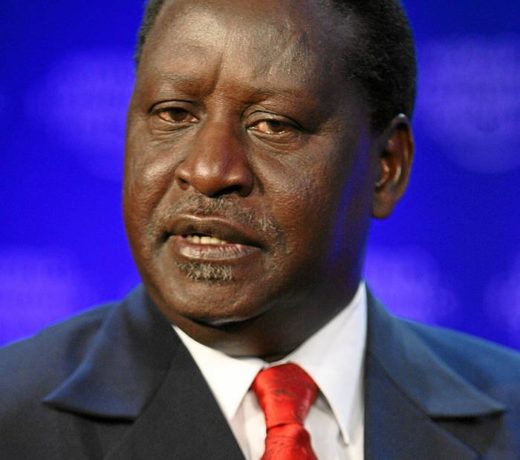 Kenyan authorities have detained and are trying to deport an opposition politician, who also holds Canadian nationality, in defiance of a court order letting him enter the country, his lawyer and a senior opposition member said on Tuesday.
Firebrand politician Miguna Miguna was deported in February during a crackdown by the government after a symbolic swearing-in of opposition leader Raila Odinga as president.
A Kenyan court then ordered that Miguna's Kenyan passport be restored and that he be granted entry to the country.
He landed at Nairobi's international airport on Monday afternoon, his lawyer, Nelson Havi, said.
Havi said immigration officials asked Miguna to surrender his Canadian passport and refused to accept his Kenyan identity card as a valid travel document.
Opposition Sen. James Orengo told Reuters that an hours-long standoff ensued before several dozen plainclothes officers dragged Miguna onto an Emirates airline plane bound for Dubai.
Live footage broadcast by private Kenyan TV station Citizen showed Miguna in the doorway of what appeared to be an Emirates plane shouting at a crew member: "I'm not going anywhere, you cannot take me from my country by force."
Interior ministry spokesman Mwenda Njoka told Reuters on Tuesday he was working on a statement but could not immediately comment.
"There was an attempt to force him onto the plane and he resisted justifiably," said Orengo, who said he witnessed Miguna being "terribly manhandled, pushed and dragged" by plainclothes officers at the airport.
Orengo said the officers then took the politician off the plane and briefly held him at airport immigration offices before taking him to a police station in the airport in the early hours of Tuesday.
"I don't know where he is now," said Orengo." I fear they are trying to get him on a flight out of the country
using any aircraft that would accept them."
READ: 2019 Election: NHRC advocates against hate speeches
Kenya's biggest newspaper, the Daily Nation, reported that plainclothes police slapped and kicked journalists covering the incident.
The Nation published a photo of one of its cameraman holding up his bloodied arm.
It was unclear if the dispute would have any impact on an agreement announced this month between opposition leader Odinga and President Uhuru Kenyatta.
The rival politicians vowed to unify the country after elections last year in which about 100 people were killed, most of them in clashes between opposition supporters and security forces.
Orengo said that Odinga came to the airport on Monday night to attempt to lobby for Miguna to be admitted to the country.
He said that the return of Miguna's passport was one condition for an enabling environment for political dialogue, but did not specify any new plans by the opposition.

Load more