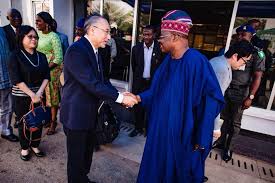 Mr Wattana Kunwongse, Thailand Ambassador to Nigeria, has declared the readiness of his country to partner with Oyo State Government for mutual benefits.
Kunwongse made the disclosure on Monday when he led a delegation of Thais to pay a courtesy visit to Gov. Abiola Ajimobi in Ibadan.
Kunwongse was accompanied on the visit by Col. Muhammed Abdallah (rtd), the Chairman, National Drug Law Enforcement Agency (NDLEA).
Kunwongse said the visit was to discuss ways to enhance bilateral relationship in the area of alternative development approach.
He listed agriculture, human capital development, research and studies of seeds and plant, post-harvesting management, logistics, marketing, infrastructure and trade as areas his country would partner with Oyo government.
The Thai's Ambassador stressed that Oyo state had been considered a strategic partner in advancing the project of development in line with his country's mandate of building a bilateral relationship with Nigeria.
He commended the state government for re-allocating lands seized for planting cannabis into other agricultural purposes
"What Oyo State has done in response to the discovery of the land used in the cultivation of cannabis fell within the novel idea of U.N.O.D.C.
"This helps countries extend opportunities in broadening economic capacities and earn foreign currencies. It is commendable,'' Kunwongse said.
Also speaking, Abdallah said it was the first time a state in Nigeria would convert a land that had been hitherto used for planting cannabis to plant, legally acceptable agricultural products.
The NDLEA boss said that the alternative development approach in Oyo State had got the blessing of Mr Yury Fedetov, UNODC's Executive Director in Vienna, Austria.
"The last time I was in Vienna, Fedetov was briefed about the situation in Oyo state.
"He expressly gave his nod to the possibility of cooperation between Thailand and Oyo government on an alternative development plan,'' he said.
Ajimobi in his response said the state government had created a committee for the project which he said would cover agriculture, health, culture and tradition.
"The committee will draw up a list of areas of concentration of the partnership under industrial, commercial and trade relationship. The committee will take off in the next three months.
"Your visit to the state will go a long way in developing a bilateral relationship which will lead to more economic benefits for the state.
The governor noted that agriculture was the driving force of Oyo state's industrialisation, given its vast arable land.
He said that the partnership with Thailand would assist Oyo state in post-harvest technology and integrated value-added agriculture.
Ajimobi expressed hope that within the next three months, the working committee of Oyo and Thailand partnership should have begun springing up benefits for both parties.
Load more