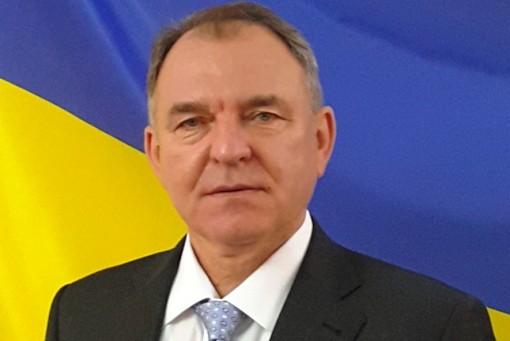 Ukraine Embassy to Nigeria says it has stepped up measures to deepen bilateral relations, especially on trade and economy with Nigeria.
The Embassy in a statement by its First Secretary, Mykola Yaremchuk, on Wednesday in Abuja, stated that the first Ukraine Trade Mission would visit Nigeria between April 3 and April 4.
Yaremchuk stated that the four-day mission's visit to Nigeria would enhance the two country's relations in different sectors of the economy.
According to him, the mission will focus on international trade, agrarian and food industry, automotive and aviation, engineering and IT-technology, chemical and pharmaceutical production during the visit.
He noted that the mission's visit was facilitated by the embassy in collaboration with Nigeria's Foreign Affairs Ministry, Office for Trade Negotiations, NACCIMA and Chamber of Commerce and Industry (CCI) of Abuja and Lagos.
He added that "the Ukrainian mission would be headed by Mrs Nataliia Mykolska, the country's trade representative, Deputy Minister for Economic Development and Trade, as well as Mr Petro Poroshenko, Special Envoy of Ukraine President to Nigeria.
"The Ukrainian delegation would include Mrs Olga Trofimtseva, the Deputy Minister for Agrarian Policy and Mr Sergii Svystil, the Vice-President of the Chamber of Commerce and Industry of Ukraine."
He stated that representatives of some Ukrainian companies working international trade, agrarian and food industry, pharmaceutical production, automotive and aviation would also be among the mission members.
He said the delegation would meet with Gov. Akinwumi Ambode of Lagos State and directors of Dangote Group of companies.
According to him, a Memorandum of Understanding for cooperation between Lagos CCI and CCI of Ukraine would be signed.
Yaremchuk said that during the visit, the Nigeria-Ukrainian Trade and Investment Integration Forum with other heads of government agencies would also be held.
He said that during the visit, the third Nigeria-Ukrainian Business Forum would also take place in Abuja on April 6, where active contacts between Nigerian and Ukrainian entrepreneurs were expected.
The envoy said the Head of Ukrainian Trade Mission, Mrs Nataliia Mykolska would pay courtesy visit to President Muhammadu Buhari to deliver a personal message from the President of Ukraine.

Load more