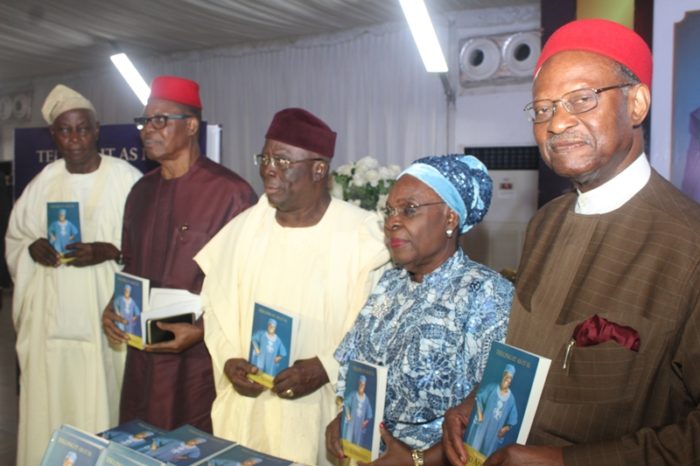 By Kazeem Ugbodaga
Elder statesman, Pa Ayo Adebanjo, National Leader of APC, Asiwaju Bola Tinubu and former Secretary General, Commonwealth, Chief Emeka Anyaoku on Tuesday said Nigeria must return to true federalism in order to remedy the gross imbalance in the nation.
The trio spoke at the formal launch of the Autobiography of Adebanjo, titled: "Telling It As It Is," in commemoration of his 90th birthday held at the Habour Point, Victoria Island, Lagos, Southwest Nigeria.
Adebanjo lamented that there was deep poverty entrenched in the lives of the masses because there was no true federalism, saying that there was no reason for Nigerians to be poor in view of the abundant resources at the nation's disposal.
He said what the government of today was only interested in was to argue with the PDP about who stole what instead of impacting in the lives of the people.
Adebanjo added that the way the late Obafemi Awolowo recruited them in those days made them to be radical, saying that was why he and others could not change from one party to the other as they do these days.
Speaking, Tinubu said Adebanjo stood for true federalism, while also describing him as a great leader who stood for restructuring.
According to him, "Ayo Adebanjo is a great leader who was principally committed to constitutional democracy in this nation. You can praise and honour him for his stand on this nation.
"He stood for restructuring, which is true federalism; about freedom and about opportunity for each federating unit to come up with their blueprint to promote unity of the nation. I am with him on this; he has been a father to all of us in politics and he is ready to pay the supreme price."
Tinubu also said if not for the honesty and integrity of Adebanjo, he would not have become the governor of Lagos State, saying that it was Adebanjo who insisted the results of the primary election which favoured him must be upheld even when others were trying to scuttle it.
"He insisted that every member of the AD must stand for primaries. He said the results of the free primary election must be upheld and that was to my favour. If he were corrupt, he would have collected bribe then as the Acting Chairman of Action for Democracy but he stood his ground and upheld the primary election, which later made me the governor of the
state.
"May God bless you. I pray that you will continue in this your honesty, I respect you, you are a mentor to me. Though we may disagree on some issues, he is my mentor and he taught me rebellion, that means I am not a bastard," he said.
Speaking, Anyaoku said the nation was doing well when it practiced true federalism under under the four regions, saying that the nation was making tremendous progress then until the military came in.
He said in the Western region then, Awolowo introduced free education and free health, while the Eastern part, late Michael Okpara revolutionalised the agricultural system and that under the leadership of Ahmadu Bello in the North, the groundnut pyramid held sway.
Anyaoku stated that he believed if the military had not taken over and remain at the helm of affairs for years and disfigured the federal structure, things would not have been so bad as they were today.
According to him, the nation was currently structured under a unitary system which the military brought.
However, Anyaoku said Adebanjo had been a part of those who created history in the country as he had passion for national growth and development, saying that he had known him to always speak the truth, adding that he was amazed at his intellectual capacity at 90 years.
Former Military Governor of Lagos, Commodore Ebitu Ukiwe (Rtd) saluted Adebanjo at 90 and wished him well in his future endeavour.