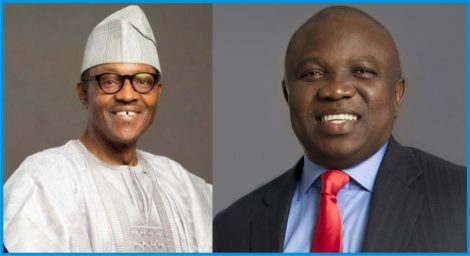 A group operating under the aegis of Itesiwaju Ipinle Eko Vangraud has lauded President Muhammadu Buhari for his two-day official visit to Lagos State, saying the president and Lagos State Governor Mr. Akinwunmi Ambode have redefined good governance in the country.
Speaking to journalists in Lagos, the State Coordinator of the group, Mr. Seyi Bamigbade said the ultra-modern Ikeja Bus Terminal designed to redefine public transportation in line with the Bus Reform Initiative of the Lagos State Government unveiled by the president during his visit is evidence of good governance in the country.
According to him, the initiative of the ultra-modern Ikeja Bus Terminal is to cater for movement of the growing population of the state and making modern buses available to the people, adding that it is only proactive government that will conceive and complete such project.
He also commended Ambode for his developmental strides in the last three years, saying the just commissioned 21 network of roads and two bridges totalling 27.4 kilometre in Alimosho Local Government.
Seyi added that the governor's pledge to further develop other communities within the axis has further reposed people's confidence in the ability of the governor to deliver on promises.
He said, the roads, which connect Lagos with Ogun State from Agbado Oke-Odo Local Council Development Area now fitted with walkways, drainage system, laybys, service ducts, lane marking and street lights, among others will raise the value of the property and bring commerce to the area.
He said, "Governor Akinwunmi Ambode has made Alimosho axis economically viable and also liveable. Lagosians don't need to travel anywhere to earn a living. By opening up the whole network stretching 27.4km, he has brought economy back to this place.
"With the walkways, street lights, these communities are becoming safer and there is more to do. By expanding the axis here, Lagosians can travel without necessarily going to the main street and go to Ojo or Badagry, " Seyi said.
He said the roads were alternative routes to decongest traffic from the Lagos-Abeokuta Expressway, and could be used to access Ipaja up to Badagry without using the expressway.
Seyi said, the project has open up all our sub-urban communities, reduce traffic congestion and as created better life for the people.
He urged residents of the state to go out to register and collect their Permanent Voters Cards to be able to Vote Governor Akinwunmi Ambode with More Votes come 2019.

Load more