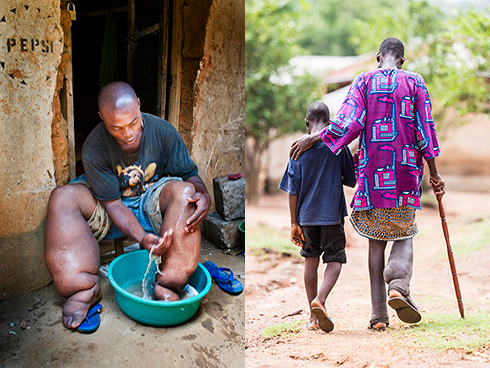 The Nasarawa State Government and Carter Center, an NGO, have confirmed that lymphatic filariasis and trachoma, both of which are Neglected Tropical Diseases (NTDs), have been eliminated from the state.
Dr Daniel Iya, the state's Commissioner for Health, disclosed this at the 2018 Nasarawa state Strategic Planning meeting on (NTDs) on Thursday in Lafia.
Iya, represented by Dr Ibrahim Adamu, Director of Public Health at the state's Ministry of Health, said the positive development was due to the collaboration between the state government and the NGO.
He added that apart from the elimination of the two NTDs, the synergy has also succeeded in interrupting onchocerciasis and stopping its treatment in 2018.
"I wish to appreciate the Carter Center for their immense financial and technical support towards NTD programme in Nasarawa state since inception to date in stamping out these diseases.
"Another great success has been achieved by the interruption of onchocerciasis and stoppage of the treatment in 2018.
"I want to assure the Carter Center and all of you that Nasarawa state Ministry of Health will continue to partner you in fights against NTDs affecting our people," he said.
Dr Abel Eigege, Director of Plateau/Nasarawa Programme of the center also confirmed the development.
Eigege said that the victory against NTDs started with guinea worm, which have been eradicated and certified by World Health Organisation (WHO), while lymphatic filariasis and trachoma were recently eliminated from Nasarawa and Plateau states.
"We started with Onchocerciasis about 27 years ago and have interrupted the transmission, thereby preventing emergence of new cases as a result of our partnership. The return on investment is quite impressive," Eigege said.
READ: Yellow fever: United Nations to vaccinate 1bn people in Africa by 2026
He explained that the meeting was a strategic planning for NTDs that the Carter Centre supports in Nasarawa state for 2018, adding that the goal of the centre is to fight diseases and build hope, especially for the vulnerable in rural communities.
Mr Jacob Danboyi, the Nasarawa state Coordinator of NTDs, appreciated the staff who worked in the programme alongside the local government staff and Community Direct State Distributors for their commitment to the fight against NTDs.
"The distributors are within their communities selected by their community members as volunteers to distribute the medicine each year. They are trained and given the medicine to move around from house-to-house to distribute the drugs," he said.
He advised residents of the state to accept the free drugs offered by Carter Centre, which had helped in the elimination or interruption of some of the NTDs and no are longer a threat to the public.
Mr Charles Oliver, Local Integrated Health Team Leader (LIHT) from Kokona Local Government Area of the state and a participant at the meeting, appealed for more people to embrace the effort put in place, to rid the state of NTDs.
Load more