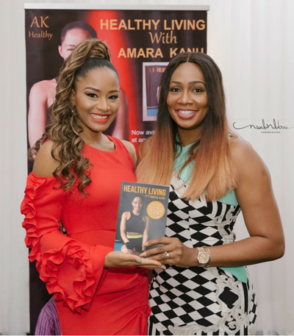 Amara Kanu, wife of Nigerian football legend Kanu Nwankwo, has urged Nigerians to pay attention to their health, especially the heart.
The author and fitness coach said this at a meet and greet tagged 'Love the skin you are in' held in Abuja on Sunday.
Speaking on the importance of good health, she encouraged people to listen to their bodies in order to easily detect health issues.
"Listen to your body. You tell your body what to do and it follows. Check your blood pressure regularly to keep your health up," Amara said.
She recounted her husband's heart surgery journey, revealing that she `pushed' him to go for full diagnosis after she noticed his irregular heartbeats.
Kanu Nwankwo had corrective heart surgery in 2014, 17 years after his first heart operation as he was diagnosed with congenital heart defect in 1996.
Following his recovery, he launched the Kanu Heart Foundation, a nonprofit organisation designed to provide surgeries for heart defect patients.
Amara, who is currently promoting her new book 'Healthy Living', emphasised the power of self-love, adding that it is a necessary ingredient for a happy life.
"The moment you feel distraught. You need to motivate yourself. You have to keep practicing and meditating.
"Celebrate little moments. It helps you become a more positive person," she said.
According to Amara, when a person possesses self-love, he or she finds the need to live healthier, eat healthier and exercise.
"To love yourself is a big job and you have to find time to exercise, because you want to feel good. Exercise makes me feel good.
"It releases endorphins and you feel really good, instead of taking pills. You move past the pain when the enzymes are released.
"When you love yourself, you love other people and you try to choose good things that are good for you," Amara said.
A representative of the Kanu Heart Foundation, Mr. Promise Amaha said that the foundation is partnering with Amara Kanu to get her book on healthy living to as many people as possible.
According to him, the more people are aware of the importance and ways of being healthy, lesser heart conditions will exist.
"The essence of her book is to help people start to pay attention to hearts around us in order to help them live longer.
"With healthy living, everything is possible. The foundation is partnering with Amara Kanu," Amaha said.
A guest Mrs. Felicita Obong expressed her joy at the awareness being created around heart issues, especially in trying times such as this when people face so much pressure.
"I am happy they are creating massive awareness, and I appreciate Amara for being very honest with us about her family and health," she said.
Free blood pressure check was provided for guests by medical practitioners.

Load more