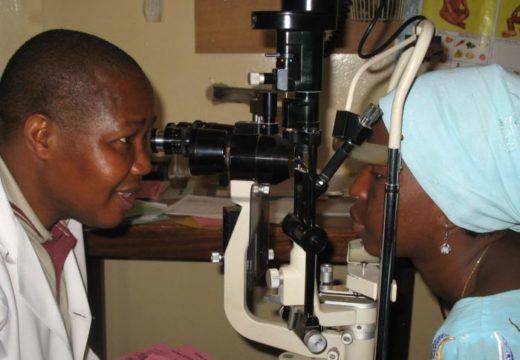 A commercial bank has commenced a free eye surgery for 400 people affected by cataract in Kebbi and Cross River States.
Abdullahi Mainasara, the North West Zonal Head of First City Monument Bank (FCMB), made this known at the "Community outreach for priceless gift of sight'' programme in Birnin Kebbi on Tuesday.
He said the bank had been in partnership with Tulsi Chanrai Foundation since 2009 under the programme, adding that the sight of thousands of people had been restored in many states.
"For instance, over 2,000 people were screened last year during the outreach programme in Kebbi, Cross River and Imo states, with 400 eye surgeries successfully performed.
"For this year, the team of highly professional and dedicated surgeons from the foundation have commenced work here in Kebbi and Cross River states.
"They will perform surgery on another 400 people suffering from cataract in both states," he said.
Mainasa, who was represented by Alhaji Ali Yahayya, the Kano Branch Manager of the bank, said the programme was part of the bank's corporate social responsibility initiative.
He noted the importance of sight to the well-being of individuals and nation.
"We are proud to sustain the sponsorship of this initiative with the foundation, because it has continued to positively touch and transform the lives of thousands of people, homes, businesses and Nigeria in general," the bank official said.
The Chief Executive Officer of the foundation (CEO), Col. Ghanta Prasad, said more than four million people have sight impairment out of which 1.2 million were totally blind.
READ: Lagos state records 81 deaths in road accidents in 10 months — Commissioner
"We are doing what we can to eliminate blindness in this country as 110,000 eye patients affected by blindness in Nigeria," he said.
Also speaking, the state Commissioner for Health, Alhaji Umar Kambaza, commended the efforts of the bank in partnership with the foundation.
According to him, over 30,000 cataract surgeries have been conducted by the foundation in the state and the beneficiaries are downtrodden people.
"We provided the infrastructure where surgeries are taking place and cash allocation to the foundation to ensure the work continues," he said.
Cataract is an eye disease that affects the ability of an individual to see clearly which could lead to total blindness, if not treated.

Load more