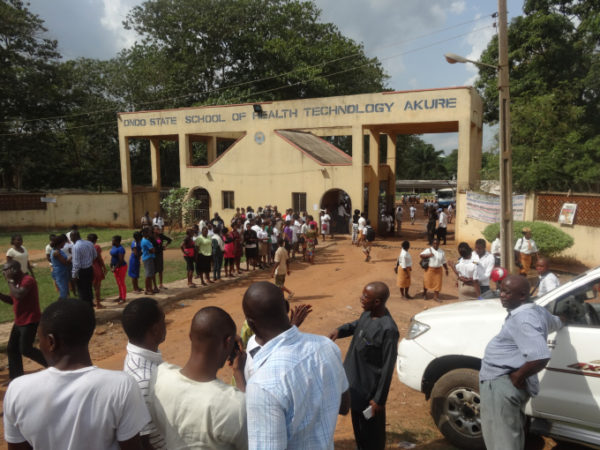 The Ondo State School of Health Technology on Thursday matriculated 1,006 students into various departments of the school for the 2017/2018 academic session.
Speaking during the matriculation, Dr Wahab Adegbenro, the state Commissioner for Health, said that the school would soon be translated to College of Health Technology.
Adegbenro, who was represented by Dr Taye Oni, the Permanent Secretary of the ministry, said that the State Government was aware of the school's challenges and would address them.
The commissioner added that a total overhaul was ongoing in the state's health sector to enable some health students to be engaged after their graduation.
He said that the state School of Nursing and Midwifery would be integrated into the University of Medical Sciences, Ondo, to enable students to further their studies in degree certificates.
Adegbenro urged the matriculating students to focus on their academic targets and not to be distracted.
"You must know that health is wealth, but this wealth is about making impacts and giving comfort to people.
"It is when you are hard working and build on your skill that money will naturally come," he said.
Adegbenro had earlier inaugurated a block of four classrooms and six office buildings built by the school.
Dr Felix Olawoye, the Principal, Ondo State School of Health Technology, said the school had zero tolerance for all manner of vices ranging from cultism, hooliganism and examination malpractices.
He said the school was established to provide low and middle-level manpower in the health sector to drive laudable health programmes.
Olawoye warned that the school would not hesitate to wield its big stick on any student culpable of the vices.
He assured that his office was opened to all for complaints from students and parents on the administration of the school, saying it will stem tide of misinformation and its concomitant effects.
The principal appreciated the state government for its efforts in moving the school forward and commended other stakeholders, including parents, guardians, school staff and student bodies.
"Ondo State School of Health Technology, Akure, students pay the least fees in comparison to its contemporaries in the southwest geopolitical zone.
"This paltry sum is what is being utilised for the developmental projects that dotted the landscape of the school since the present management came on board," he said.
However, Olawoye appealed to the general public to assist to enable the school to overcome its challenges, especially in infrastructure, saying that government cannot do it alone.
He announced that the Pharmacy Technician Department, which was in oblivion for about two decades for obscure reasons, had been resuscitated.
He said the school was longing to introduce Diploma courses in Community Health Extension and Health Information Management Departments.
Miss Future Opara emerged overall best student in the probation examination and was given free tuition scholarship for the period of her study in the school.

Load more