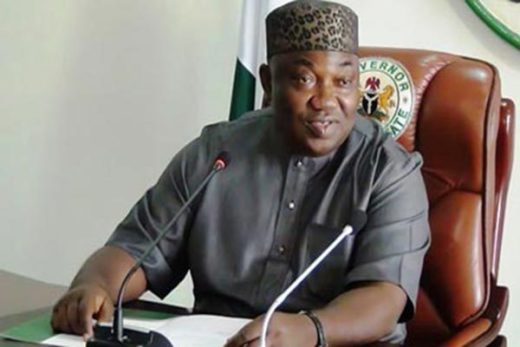 Enugu State Traditional Rulers' Council has applauded Gov. Ifeanyi Ugwuanyi for his innovative ideas of giving N10 million development grant to each community in the state for development purposes.
The Chairman of the council, Igwe Lawrence Agubuzu, made the commendation in an interview with the News Agency of Nigeria (NAN) in Enugu on Sunday.
According to him, "One Community, One Project" scheme is a wonderful innovation meant to directly solve developmental needs of the people.
Ugwuanyi recently handed over first trench of cheques of N5 million each to another batch of 171 autonomous communities.
He did that after giving118 autonomous communities that had met the requirements for the release of the funds to carry out development projects of their choice.
The scheme is an extensive rural development initiative of the Ugwuanyi's administration aimed at ensuring that development reaches the 450 autonomous communities in the state.
The monarch said that the idea would help to fast track development in the communities as well as satisfying the immediate needs of communities from the people's stand-point.
Agubuzu, who is the traditional ruler of Ezema Olo in Ezeagu council area, revealed that his community had decided to use the grant for improvement and creation of more rural roads.
"The money will also be used to control erosion, which has affected my community for long,'' he said.
On the rumours that the money was meant to settle traditional rulers, the chairman described those with this type of imagination as `enemies of progress'.
"How can it be, money that is given openly in the presence of the traditional rulers and the President-General of their towns; which before now all the people know the money is coming.
"Most communities like that of mine had already met and deliberated on projects to use the money to achieve.
"So, if anything goes wrong with the money, it is still the same community people that will blow the whistle to the state government,'' he said.
On a traditional ruler that refuses to collect the cheque, Agubuzu said that it was wrong for him to do that since he was going to collect the money on behalf of his community people.
"It is not his personal money but it is meant for development of people in his domain or community.
"Calling him to collect the money was a privilege and trust the government was reposing on him to deliver the state government message to his people and for the betterment of his people.
"However, the traditional ruler must explain why he decided to take such an action,'' Agubuzu, who is a former ambassador of Nigeria to Zambia and Malawi, said.

Load more