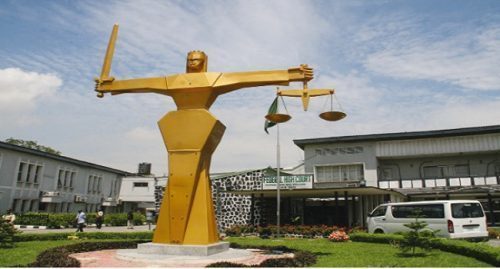 The Federal High Court, Abuja, has nullified the National Assembly's amendment to Clause 25 of the Electoral Act (Amendment) Bill 2018, which altered the sequence of election ahead of the 2019 general elections.
Delivering judgment on the matter on Wednesday in Abuja, Justice Ahmed Mohammed, held that the National Assembly did not have the powers to reorder the election sequence.
He said the power to fix election sequence rested solely with the Independent National Electoral Commission (INEC).
In the election timetable released by INEC, it INEC fixed Presidential and National Assembly (NASS) elections for Saturday, Feb. 16, 2019, and Governorship and State Assembly elections on Saturday, March 2, 2019.
The National Assembly, however, changed the arrangement, demanding that the National Assembly elections come first and the presidential poll last.
Accord filed the suit against the National Assembly, challenging its alteration of the election sequence as already stipulated by the INEC.
Justice Mohammed said that he agreed with the submissions of Mr Wole Olanipekun, (SAN), counsel to the Accord.
This was to the effect that an amendment to the Electoral Act by the National Assembly could not override the constitutional powers granted to INEC in Paragraph 15(a) of the Third Schedule to the 1999 Constitution.
The judge said that he was persuaded by submissions of Olanipekun that the Constitution gave INEC the sole responsibility to conduct, organise, issue election times table and decide election dates.
He said it was his opinion that the National Assembly was in clear breach of Paragraph 15(a) of the Third Schedule to the 1999 Constitution, as altered.
This he said was when it went ahead to alter the sequence of election for the purpose of the 2019 elections.
The court held that a right conferred by the Constitution could not be taken away by any act, except by the Constitution itself.
Other defendants in the suit are the Attorney -General of the Federation, and Independent National Electoral Commission.
Reacting to the judgment, counsel to the National Assembly, Mr Sebastine Hon, (SAN), said that they would appeal the judgment of the trial court.