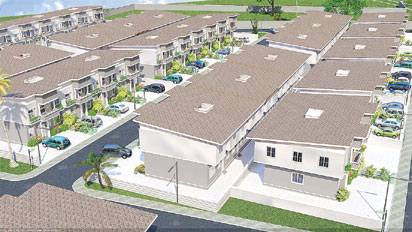 Kohath Housing Corporation and the Nigeria Mortgage Refinance Company on Wednesday signed a deal to provide over 15,000 housing nationwide to low income earners.
Mr Teni Eleoramo, the Executive Chairman, Kohath Housing Corporation, said in Abuja that the partnership would help bridge housing gap in Africa, especially in Nigeria.
The Kohath is a promoter and developer of the "Land of Honey'' (LoH) City Development and a leading player in the municipality development space in Sub-Saharan Africa.
Eleoramo said that 1,767 hectares of land had been acquired to provide affordable housing units to Nigerians.
He added that 180 hectares of this would be for the Federal Integrated Staff Housing (FISH) project for the provision of affordable housing for civil servants in the Federal Capital Territory (FCT).
"This project has successfully weathered the storm of title and legal challenges, survived the arduous business environment of Nigeria.
"It is now ready to deliver its mandate of providing qualitative and affordable housing to Nigerians.
"We have decided to collaborate to deliver on the aspirations of ensuring that over 500 civil servants move into their houses within the next 12 to 18 months.''
He said that the LoH building types would include a handful of single-family homes and a large majority of affordable housing development portfolios.
Responding, Mr Kehinde Ogundimu, Acting Chief Executive Officer, NMRC said the collaboration presents a huge opportunity to make a difference in home ownership in the nation's capital due to challenges that the LoH development would help to solve.
Ogundimu said the partnership with Kohath would provide an opportunity for NMRC to support the Federal Government's housing programmes in providing affordable housing backed by affordable mortgages.
This, he said, was in consideration of the fact that of all the challenges currently facing our nation today, very few are more urgent than the deficit of decent housing.
"Housing and economic analysts have all noted that without a stable and affordable home, low income families in Nigeria have little hope of a better livelihood.
"Hence, the availability of housing plays a key role in determining whether they can find well-paying jobs, send their children to school, get quality health services and access to reliable utilities.''
The proposed building for the housing units is located at the Gude district, Apo, FCT, Abuja.
The signing of agreement between the two parties was witnessed by Directors and staff of FISH in the Office of the Head of Service of the Federation.

Load more