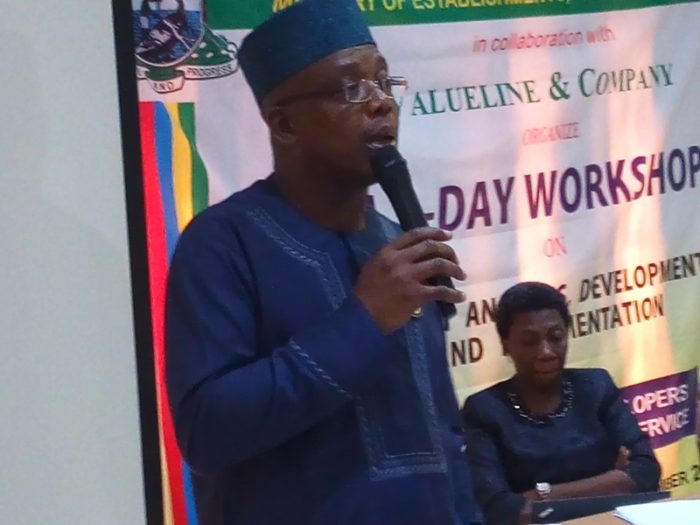 Lagos State Governor, Akinwunmi Ambode has charged civil servants in the state to be more customer-centric in order to attract goodwill for the government from the public.
The governor spoke at a two-day training for civil servants on Thursday in Ikeja, Lagos, Southwest Nigeria.
According to him, the private sector's responsiveness to customer demands had led to heightened public expectations of government, saying that because people could do their banking and shopping online, for example, they expected to be able to conclude transactions with government agencies with similar ease and speed as well.
"And, true to that promise, stakeholders are beginning to notice and appreciate the investments made to build and deepen capacity in the Lagos State Civil Service. From citizens to donor agencies, and from civil societies to the media, objective evaluations testify to a Lagos State Public Service that is better motivated, better focused, and better equipped to confront the challenges of modern governance and administration in an emerging, dynamic and rapidly-growing global city.
"Customer-centricity is another strategy for ensuring the positive perception of government programmes by the citizens. When deliberate and systematic actions are taken to design processes and programmes with the citizen-customer at the front and centre of all considerations, we find that the citizen-customer will invariably have positive perception of both the interaction with the government and the government programme concerned," Ambode, who was represented by the Commissioner for Establishments, Training and Pensions, Dr. Benson Oke said.
The governor also said that actively soliciting citizens' input would improve public services, stressing that innovative governments were creating new ways for citizens to make their voices heard, giving them the ability to provide input into regulations, budgets, and the provision of services.
The governor added: "What does a customer-centered organization look like?  It's an organization that considers the customer in everything it does, from procurement to deployment to the entire customer experience. It also speaks to its customers in their own language and makes it easy for them to align their goals with the mission at hand."