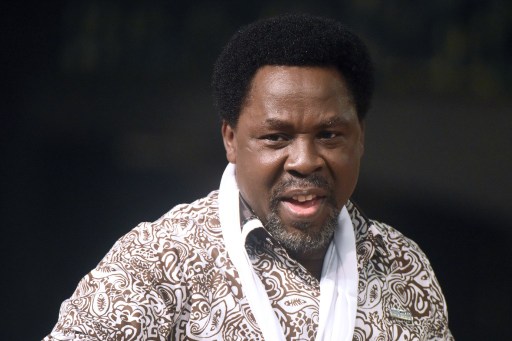 Akin Kuponiyi
A Lagos High Court sitting in Igbosere, Lagos, Southwest Nigeria on Friday adjourned till May 10, 2018 for the Registered Trustees of the Synagogue Church of All Nations (SCOAN) to explain its role in its building that collapsed which killed 116 persons on September 12, 2014.
The presiding Judge, Justice Lateef Lawal-Akapo fixed the date following the absence of SCOAN Trustee's first witness, a police officer.
The church was scheduled to open its defence to a one-count charge of building without approval following the dismissal of its no-case submission on March 8, 2016.
But its counsel, Prince Lateef Fagbemi (SAN), told the judge that the witness was unavailable, despite being served a subpoena commanding him to appear in court.
"We are to open our defence. We prepared a subpoena that was served. But the witness is not around because of distance. The first witness was transferred to Port-Harcourt; he used to be at Ikotun Egbe. We are bogged down by this bureaucratic bottleneck. The witness is necessary to lay the groundwork. In the circumstances, we cannot proceed," Fagbemi told the court.
Although the prosecuting counsel, Dr Jide Martins did not oppose Fagbemi's application for adjournment, he observed that another witness could have been prepared to testify.
Martins said: "Without sounding pedantic, I would have thought an alternative witness would have been produced by the defence."
In a bench ruling, Justice Lawal-Akapo said : "By consent of all parties, I hereby adjourn till May 10 and 11 for the defence to open its case. The May 4 date is hereby vacated."
On April 19, 2016, the Lagos State Government arraigned SCOAN Trustees, alongside the two engineers who built the building – Messrs Oladele Ogundeji and Akinbela Fatiregun – and their companies – Hardrock Construction and Engineering Company and Jandy Trust Limited.
SCOAN Trustees is facing one count charge of building without approval, while the other defendants were docked on 110 counts of involuntary manslaughter.
The Lagos State Directorate of Public Prosecutions (DPP) said the defendants violated Section 75 of the Urban and Regional Planning Law of Lagos State, 2010 as well as Section 222 of the Criminal Law of Lagos State, 2011.
The defendants pleaded not guilty.