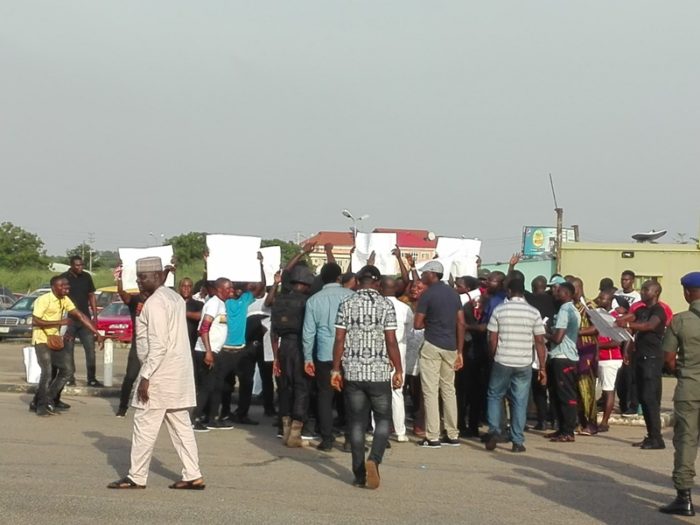 Jethro Ibileke/Benin
There was tension at the Benin City Airport on Friday evening, as supporters of the People's Democratic Party (PDP) almost clash with those of the All Progressives Congress (APC).
Both sides were sighted at the parking lot beside the VIP arrival hall, singing anti-PDP and anti-APC songs.
The heavy presence of security operatives, led by the State Commissioner of People, Mr. Babatunde Kokumo, however deterred both factions from the imminent clash.
There were also operatives of the Federal SARS, anti riot policemen and some operatives in military uniform on ground.
The official vehicle of the State Governor, Mr. Godwin Obaseki was also sighted at the VIP wing of the airport, as it was gathered that he was also on his way from Abuja.
While it could not be ascertained why the two groups were at the airport, it was however gathered that supporters of the PDP were at the airport to welcome Senator Matthew Uroghide home from Abuja.
One of the PDP supporters, however, alleged that the APC supporters were just there to disrupt their welcome party.
It was. however, gathered that both parties almost clash, but were prevailed upon by CP Kokumo, who later addressed the PDP supporters while an unidentified man also addressed the APC supporters, following which the crowd gradually dispersed.
It would be recalled that a group that goes by the name Edo South Youth Coalition, during a protest in Benin, Friday morning, threatened to begin a recall process on Senator Matthew Urhoghide, for daring to move a motion calling for the impeachment of President Muhammadu Buhari, if he fails to apologize to him [Buhari] and retracts his statement within 48 hours.