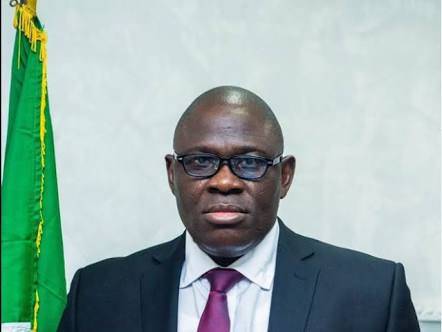 The All Progressives Congress (APC) in Oyo State has described the death of Hon. Michael Adeyemo, the Speaker of Oyo State House of Assembly, as a calamity.
APC's Publicity Secretary, Olawale Sadare, said this in a statement made available to newsmen in Ibadan on Friday.
Adeyemo died on Friday morning in Ibadan on his way to Jericho Hospital.
The APC statement expressed shock over the incident, describing it as a "devastating, saddening and unfathomable development which marked a dark spot in the anal of history of the state.''
"One would wish our amiable Speaker did not die at this time as his death creates a sad chapter in the pages of history book of our dear state.
"Adeyemo had been a brilliant, hard working and passionate player since he joined politics from his legal professional practice.
"His three-year reign as the Speaker of the State House of Assembly was full of monumental achievements and posterity would always be kind to him because he served humanity to the best of his ability,'' he said.
The party condoled with Gov. Abiola Ajimobi, members of the State House of Assembly, people of Ibarapaland as well as his professional and political associates.
The APC prayed that God would grant all family members and friends the fortitude to bear the irreparable loss.
Mr Seyi Makinde, a PDP chieftain in Oyo State, also described Adeyemo's sudden demise as devastating and a rude shock.
Makinde, in a statement by his aide, Dotun Oyelade, commiserated with the people of the state, the governor, lawmakers and his immediate family.
He described Adeyemo as a good ambassador of Ibarapa zone, seasoned lawyer and an astute administrator who managed the House of Assembly without rancour for nearly three years.
Makinde said Adeyemo left the political scene when his political knowledge and experience in lawmaking and politicking would be greatly missed.
He prayed that God would grant his family the fortitude to bear the loss and grant him eternal rest.
Similarly, Alhaji Olayide Abas and Dr Olusola Ayandele, all APC Chieftains from Ibarapa zone, described Adeyemo's death as a colossal loss to the nation.
The duo, in separate statements, expressed sadness over Adeyemo's demise, saying he was the pride of Ibarapa land and a beacon of hope to the younger generation in the country.
Abas, who said that he received the news with rude shock, added that the late Adeyemo had demonstrated excellence and brilliance in handling the assembly since he became the speaker.
He said that the late Speaker would be missed, praying that God would give the family and the state the fortitude to bear the loss
Ayandele, on his part, described Adeyemo as an astute legal practitioner and a distinguished political player.
"The information about Mr Speaker's death was received with shock and disbelief.
"In fact, one found it extremely difficult to believe the devastating news until it was confirmed from family sources.
"Ibarapaland has lost a colossus, Oyo State has also lost an icon while death has robbed Nigeria of a patriot who was ready to give his best for the betterment of the society.
"We are devastated by this development but unfortunately, there is nothing we can do about it other than pray for his soul to have eternal rest," he said.
He commiserated with his kinsmen in Ibarapa land as well as, the family, governor, lawmakers, executive committee and members of APC across the state.