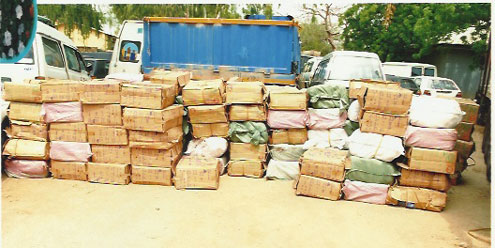 The new Controller of Customs (CAC), Ogun Area Command, Michael Nwagbara has promised hard time for smugglers.
Nwagbara said this in a statement signed by Mr Joseph Attah, the Public Relations Officer, Nigeria Customs Service on Monday in Lagos.
According to the controller, the command will continue with the ongoing effort to stem the activities of smugglers which have caused great damage to the economy.
"We are going to improve on the existing tempo of crushing smugglers syndicates, making use of all that is in our auxiliary," Nwagbara said.
The statement also said Nwagbara's predecessor, CAC Danni Madugu, generated N6.1 billion between Jan. and Dec. 2017.
According to the statement, Madugu has been redeployed to the Customs Headquarters as Acting Assistant Comptroller-General (ACG) in charge of Enforcement.
It said the command recorded 810 seizures valued at N1.5 billion within the period.
The statement listed the impounded items to include 442 vehicles, 104 motors-cycles, 21,789 bags of rice, 15,825 cartons of poultry products, 1,934 kegs of vegetable oil and cannabis among others.