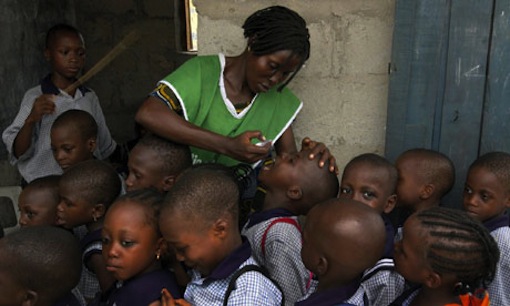 The Kogi Government said on Monday that it would immunise 900,000 children in remote communities across the 21 Local Government Areas of the state.
The government said that by so-doing, it would maintain its nine-year-old polio-free status.
Dr. Abubakar Yakubu, the Executive Director, Kogi State Primary Healthcare Development Agency (KSPHCDA) made this known to newsmen on Monday in the course of monitoring the on-going National Immunization plus Days exercise in Lokoja.
Yakubu, who visited parts of Ajaokuta and Lokoja Local Government Areas, noted that in addition to the administration of oral polio vaccines, children were given pentad 3 immunisaton.
He added that the agency was doing its best to maintain the zero polio status of the state by ensuring that all immunisation campaigns were treated with utmost sense of "urgency and dedication".
Abubakar noted that Kogi had not recorded any case of polio in the last nine years, saying that no effort would be spared to consolidate on its Polio-free status.
"Kogi state has been polio free since 2009 and we want to consolidate on that achievement by ensuring that this exercise is taken to every nook and cranny of the state.
"We hope to have immunised over 900,000 children in hard-to-reach communities across the 21 local governments of the state by the end of the exercise,'' he said.
He further told the newsmen that the National Primary Healthcare Development Agency had set aside the "Immunisaton-plus Days" to ensure that children in remote communities were immunised.
Yakubu praised the agency's staff and development partners for their commitment to the eradication of childhood killer diseases in the state.
Load more