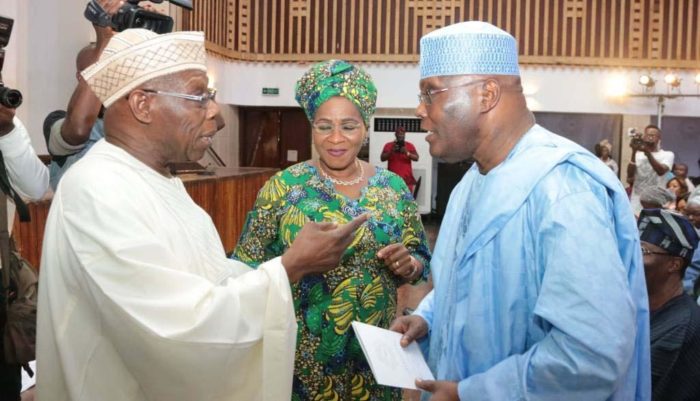 Former President Olusegun Obasanjo on Wednesday in Lagos led many eminent Nigerians to pay glowing tributes to late leader of Pan- Yoruba socio-political group and NADECO, Chief Abraham Adesanya, who died 10 years ago.
Obasanjo described him as a democrat, highly principled and consistent political leader.
Among eminent Nigerians at the event in Lagos were former Head of State, General Abdulsalami Abubakar, former Vice President Atiku Abubakar, former Commonwealth Secretary General, Chief Emeka Anyaoku and Afenifere chieftain, Chief Ayo Adebanjo.
There were also General Alani Akinrinade, former Interim National Chairman of All Progressives Congress (APC), Chief Bisi Akande; Senator Iyiola Omisore, Mr Jimi Agbaje, Dr Tokunbo Awolowo-Dosunmu, Otunba Gbenga Daniel, Senator Femi Okunrounmu, Chief Olagunsoye Oyinlola, Mr Yinka Odumakin and  Dr (Mrs) Doyinsola Abiola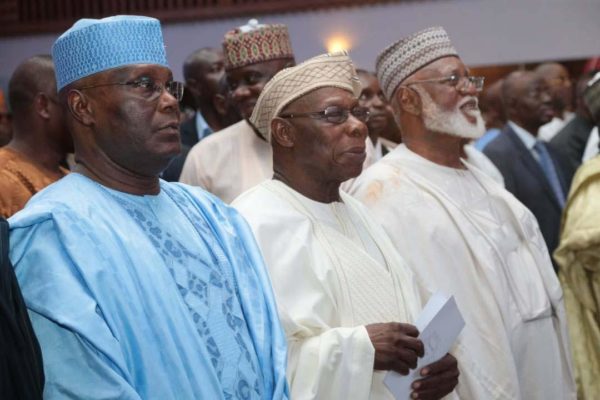 "My prayer is that the legacy of Baba would continue to inspire the way politicians play politics in this country. People like him are not many and we need more people like him," Obasanjo said, just as General Abdulsalami called for a minute silence to be observed in honour  of a man,  he said was under-celebrated by his fellow country men.
Obasanjo in particular recalled his  encounter with the late Adesanya, in the run-up  to the 1999 General Elections.
He said he sought several times Adesanya's  support for his candidature. Each time, he was turned down on principle, a development that eventually led to his loss of Yoruba votes in the South West.
He also used the occasion to disclose publicly how Pa Adesanya's daughter, Mrs Dupe Adelaja, got appointed to his cabinet, as Minister of State (Defence) without his father's knowledge.
"I want to congratulate the family of Pa Abraham Adesanya for doing this in his honour, he is a man who deserved all this honour for the role he played while he was alive.
"I came to know him when I was going into politics because the paths of politicians do cross. Once I was persuaded to go for presidential race, I had to go round to meet people across the country, including Pa Adesanya.
"The first day I went to see him, it was 10pm I got to his home, I had earlier phoned him. He received me warmly. That was when I first met Dupe who became minister in my regime.
"The question Baba asked me is: 'How did you come here? You are not one of us,'" Obasanjo recalled.
Obasanjo, however, said his reply was that he made the visit because Pa Adesanya was a politician, and that as a Yoruba man, he (Adesanya) needed to be consulted, recalling that Baba's simple reply was that: "But I would not support you."
"But I said all the same, I said I have to consult you. We parted. He entertained me as I went further in consultation. I have to come the second time. It was the same thing. He asked, 'Why are you here, we would not support you,'" Obasanjo further recalled.
The former president added that even the third time that he repeated the call, the story was still the same as Pa Adesanya remained adamant and unyielding.
"The third time, before the elections, when I visited, Baba said, 'we are not going to support you.' As the election went, I was not supported and the outcome showed that I lost in the Yoruba area," the former president said.
On how he later got Mrs Dupe Adelaja got appointed as minister, Obasanjo said: "Again, I have to say that Baba did not know how Adelaja became minister under me and Baba did not talk to me about that."
According to him, Dupe, Adesanya's daughter, was the one that served him and those that accompanied him on the visits to Baba's home, saying the other time that she came across her was when she came to do shopping nearby his farm in Otta.
In particular, Obasanjo said the decision to bring Mrs Adelaja on board alongside the late  Chief Bola Ige, was borne out of his resolve to appoint people from all the three registered political parties, in order to bring about an all-inclusive government.
Former President Obasanjo, however, said he had no regret appointing the duo into his cabinet, describing them as dutiful and diligent ministers.
"I have no regret in taking Dupe and Bola Ige as ministers. My prayer is that the legacy of Baba would continue to inspire the way politicians play politics in this country. People like him are not many and we need more people like him," Obasanjo prayed.
General Abubakar openly acknowledged the key role the late leader played in bringing about democracy back to the country through the group, National Democratic Coalition (NADECO), particularly arising from a parley that took place in Chicago, USA between then military administration headed by Abubakar and the pro-democracy coalition meant to chat the way forward in Nigeria's democratic journey.
The tributes poured side-by-side with calls for urgent restructuring of the country  at the symposium, tagged: "Leadership and the Future of Nigeria".
The calls for restructuring of Nigeria were made by  Chief Anyaoku, an Afenifere leader, Chief Ayo Adebanjo; President-General of Ohanaeze, Chief John Nwodo; Prof Banji Akintoye, General Zamani Lekwot, among others. They said Nigeria was ripe for restructuring.
According to Obasanjo, he had approached the late Afenifere leader, who was also a NADECO leader, by visiting his home around 10pm on three occasions, having made up his mind to run for the topmost job, saying that on those occasions, Pa Adesanya pointedly denied him support and that of Afenifere.
Speaking on the occasion, former Head of State, General Abubakar, while recalling the good relationship he had with the late Pa Adesanya, thanked the organisers for honouring him with the event, saying the deceased was a man that was under celebrated, giving the prominent role he played in bringing back democracy to Nigeria.
He equally appreciated all those that also fought in ensuring that democracy returned to the country after years of military rule.

Load more