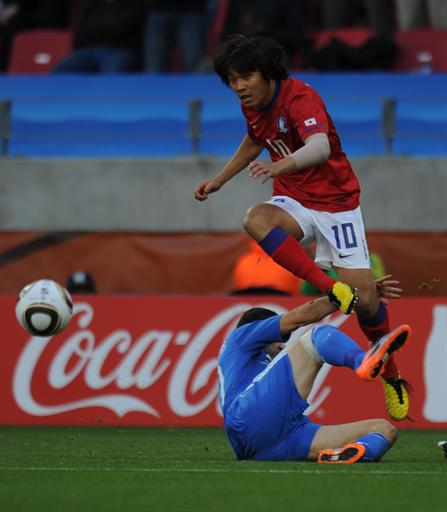 National coach Shin Tae-yong on Wednesday in Seoul said he remained undecided on the exact size of South Korea's 2018 FIFA World Cup roster to be unveiled on May 14.
But the head coach said he is still mulling whether he should settle on 23 members only or add a couple of extra bodies for the team's training camp.
FIFA's deadline to submit a 35-player preliminary roster is May 14, while the submission of the final list of 23 players is due June 4.
South Korea are in Group F with Sweden, Mexico and Germany at the World Cup in Russia.
For the 2014 World Cup, then-South Korea coach Hong Myung-bo confirmed his 23-man roster early and trained intensively with that squad before going to Brazil.
For the 2010 World Cup, South Korea announced a roster with more than 23 players and dropped a few members just before the tournament.
Shin, who has been leading the team since July 2017, said he is still trying to figure out what to do with the pool of players available.
"I'm still mulling over that problem and I will probably decide it on May 14," Shin said at a press conference at the Korea Football Association (KFA) House in Seoul.
"But I can't say that we might see some changes from our squad for the March friendlies."
Shin's side suffered two consecutive defeats in friendlies in Europe, where they had 23 players, including key members like Son Heung-min of Tottenham Hotspur and Ki Sung-yueng of Swansea City.
South Korea fell 1-2 to Northern Ireland and lost 2-3 to Poland.
With the World Cup less than 50 days away, Shin said injuries have been giving him a headache.
South Korea has already lost left back Kim Jin-soo after he sustained a knee injury against Northern Ireland.
"Because of Kim Jin-soo and some other players, I haven't decided on the final roster," he said.
"We can see players getting injured or having poor form at the end of the season. So, that's why I'm thinking of naming additional players to the World Cup team."
South Korea will open their World Cup campaign with Sweden in Nizhny Novogorod on June 18 and face Mexico five days later in Rostov-on-Don.
The Taeguk Warriors will then take on defending champions Germany in Kazan on June 27.
If Shin confirms his 23-man roster on May 14, the World Cup squad will have nearly a month to train until the first match against Sweden.
But at the same time, it means their opponents will have more time to analyse them.
Shin's team will gather at the National Football Centre in Paju, Gyeonggi Province, on May 21 to prepare for two friendly matches at home.
South Korea will play against Honduras on May 28 and Bosnia and Herzegovina on June 1 before flying to their pre-World Cup training in Austria.
In Austria, South Korea will face Bolivia at Tivoli Stadium in Innsbruck on June 7 and take on Senegal at Das.Goldberg Stadium in Grodig, Austria, on June 11 behind closed doors.
South Korea will arrive at their World Cup base camp in St. Petersburg on June 12.
Shin said he was first trying to build up his 35-player preliminary list and his coaching staff was busy checking the candidates.
Shin has also traveled to Japan to watch South Korean players there.
"We're basically checking every player on our radar," he said. "As for our Spanish assistant coaches, they're analysing Mexican and Sweden players in Europe."
Shin said South Korea's World Cup preparations are in full swing and they're focusing on their first two opponents — Sweden and Mexico.
"We can analyze Germany based on their first two World Cup matches, so we're not currently focusing on Germany," he said.
"But we're thoroughly looking into Sweden and Mexico. We'll collect everything, even personal information on the opposing players, and will provide that to our players."