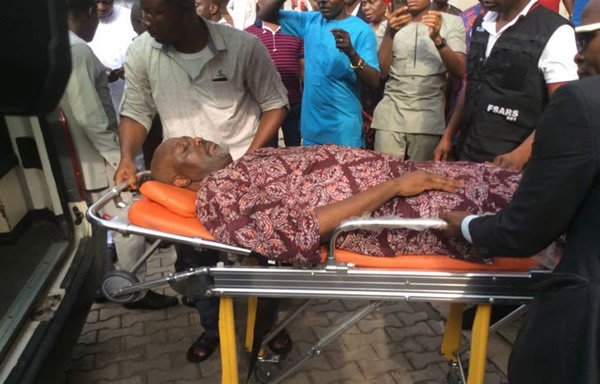 A Kogi State High Court, Lokoja, has given an interim order that Senator Dino Melaye, representing Kogi West Senatorial District in the National Assembly, be moved to the National Hospital Abuja, for further treatment.
Justice Nasir Ajanah, gave the order on Friday after the senator's lawyer, Mike Ezekhome (SAN) sought for his bail.
On Thursday, police stretchered Melaye before a Senior Magistrates Court, and charged him with supplying illegal arms to two suspects,to commit various crimes in the state.
In Abuja on Wednesday, the embattled Senator was charged with causing damage to government property, attempted suicide and escape from lawful custody, reports the News Agency of Nigeria.
His lawyer argued by virtue of Section 97 of the Penal Code, the offence is bailable.But Chief Magistrate Suleiman Abdulahi denied the bail application and ruled that Melaye would remain in police custody for the next 39 days.
The case was then adjourned until June 11, 2018.
Police Melaye had taken possession of Melaye since he was recovered from a private hospital in Abuja after he jumped out of a moving police vehicle on April 24 while being conveyed to Lokoja Kogi State, for trial.
The police then moved him to the National Hospital, from where the police said he was discharged on Wednesday, for the first trial in Abuja.