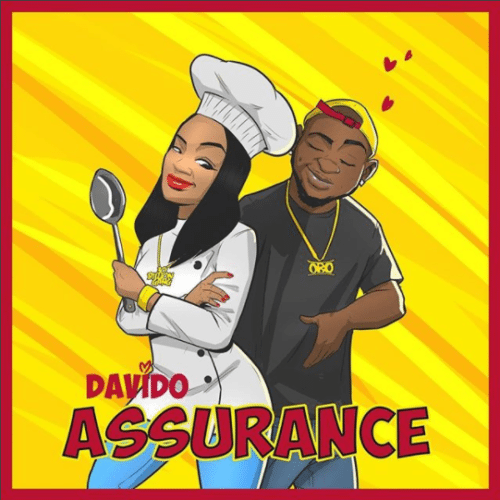 Davido's latest single " Assurance" dedicated to his girlfriend Chioma to celebrate her birthday has clocked over 2.8m views on YouTube in 6 days.
The song which was released to declare Davido's love for Chioma has an unknown lady Anita mentioned in the second verse.
Who could this Anita be? Check out the lyrics of the song.  You just might find out.
[Intro]
Chei
SperoacH beat
Put a bang bang
Biggie biggie
Heavy heavy
Baby do you want me?
Haba
Biggie biggie
Heavy heavy (oh)
Baby do you want me?
Haba
[Verse 1]
You're the one I want oh
Before my liver start to fail
You're the one I need oh
Before cassava start to hail
And if I ever leave oh
Make water carry me dey go
Far away, far away
[Pre-Chorus]
So I am looking for a sister
Chioma my lover
She get the dollar (Dollar)
She dey wear designer
So I am looking for a sister (I am looking for her)
Chioma my lover o
She get the dollar (Dollar)
She dey wear designer o
[Chorus]
She say give me assurance
Assurance
I give my baby assurance
I give my baby lifetime insurance
Assurance, assurance
I give my baby assurance
I give my baby lifetime insurance
[Bridge]
Biggie biggie
Heavy heavy (Chei)
Baby do you want me?
Haba
(Put a bang bang)
Biggie biggie
Heavy heavy
Baby do you want me?
Haba
Biggie biggie
Heavy heavy (oh)
Baby do you want me?
Haba
Biggie biggie
Heavy heavy (Heavy heavy)
Baby do you want me? (Shekpe)
Haba
[Verse 2]
Love is sweet o
When money enter, love is sweeter
Pepper rest o, so brother man go gat the liver
Call Anita o, tell am make she come dey go far away, far away
Me I no dey do again
[Pre-Chorus]
And I am looking for a sister
Chioma my lover
She enter Atlanta, she go cause disaster
And I am looking for a sister (I am looking for her)
Chioma my lover
She go follow go Atlanta
Then cause disaster
[Chorus]
She say give me assurance
Assurance
I give my baby assurance
I give my baby lifetime insurance
Assurance, assurance
I give my baby assurance
I give my baby lifetime insurance
[Bridge]
Biggie biggie
Heavy heavy (Chei)
Baby do you want me?
Haba
(Put a bang bang)
Biggie biggie
Heavy heavy
Baby do you want me?
Haba
Biggie biggie
Heavy heavy (oh)
Baby do you want me?
Haba
Biggie biggie
Heavy heavy (Heavy heavy)
Baby do you want me?
Haba
[Pre-Chorus]
So I am looking for a sister
Chioma my lover oh
She get the dollar (Dollar)
She dey wear designer
So I am looking for a sister (I am looking for her)
Chioma my lover o
She get the dollar (Dollar)
She dey wear designer o
[Chorus]
She say give me assurance(eh eh)
Assurance
I give my baby assurance
I give my baby lifetime insurance
Assurance, assurance
I give my baby assurance
I give my baby lifetime insurance
[Outro]
Biggie biggie (I am looking for a sister)
Heavy heavy
Baby do you want me? (Chioma my lover)
Haba
Biggie biggie (She get the dollar)
Heavy heavy
Baby do you want me? (She dey wear designer)
Haba
Biggie biggie (I am looking for a sister)
Heavy heavy
Baby do you want me? (Chioma my lover)
Haba
Biggie biggie (She get the dollar)
Heavy heavy
Baby do you want me? (She dey wear designer)
Haba
SperoacH beat
Mix Monster
Source: https://genius.com/Davido-assurance-lyrics