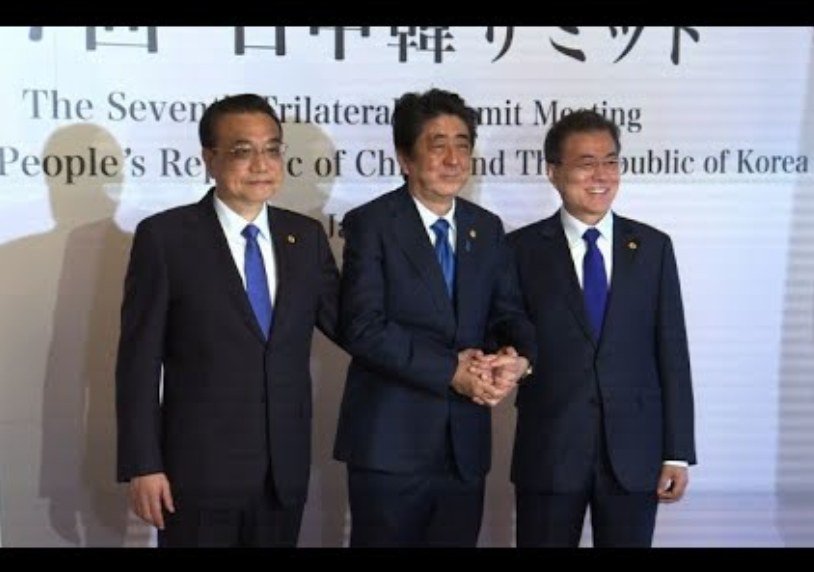 The leaders of Japan, China and South Korea held a summit in Tokyo on Wednesday and agreed to cooperate over the denuclearisation of North Korea.
Japanese Prime Minister, Shinzo Abe, hosted the trilateral meeting with Chinese Premier Li Keqiang and South Korean President Moon Jae In.
The leaders discussed Pyongyang's nuclear weapons programme and supported free trade.
"The momentum of the complete denuclearisation of the Korean Peninsula and peace and stability in North-East Asia has to be led to North Korea's concrete actions,'' Abe said after the meeting.
Moon, who took office a year ago, is the first South Korean president to visit Japan in more than six years, while Li is the first Chinese premier to travel to the country in seven years.
Abe attempted to improve Japan's relations with the two neighbouring countries that have been strained over differing views of Japanese wartime atrocities and territorial spats.
While the three leaders were holding talks on Wednesday, US Secretary of State, Mike Pompeo, arrived in Pyongyang to meet with North Korean leader Kim Jong Un ahead of the first-ever US-North Korean summit between President Donald Trump and Kim, Japanese broadcaster NHK reported.
The Tokyo gathering comes less than two weeks after inter-Korean talks between Moon and Kim and ahead of the planned US-North Korean summit, which is expected to be held later this month or in June.
The Korean leaders held a summit in the border village of Panmunjom on April 27 and agreed to pursue a set of historic goals, including a nuclear-free Korean Peninsula and an official end to the 1950-53 Korean War.
Kim met President Xi Jinping in the north-eastern Chinese port city of Dalian on Monday and Tuesday, the second meeting between the two, according to China's state news agency Xinhua.
The two heads of state had an "all-around and in-depth exchange of views" about China-North Korea relations and "major issues of common concern," Xinhua said.
During his meeting with Xi, Kim said the Korean Peninsula's denuclearisation was Pyongyang's "clear and consistent position.''
"As long as relevant parties eliminate the hostile policy and security threats against North Korea, North Korea does not need to have nuclear weapons, and denuclearization is achievable,'' Kim said, according to Xinhua.
In late March, Kim made a surprise visit to Beijing and held talks with Xi, his first known trip abroad since he assumed power in 2011.
Trump spoke with Xi by telephone on Tuesday and they "agreed on the importance of continued implementation of sanctions on North Korea until it permanently dismantles its nuclear and missile programmes,'' according to the White House.
Abe talked to Xi over the phone on Friday ahead of Li's four-day trip to Japan and they agreed to closely cooperate in resolving the issue of Pyongyang's nuclear weapons programme.