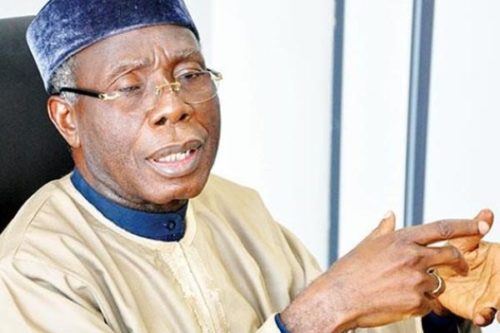 The Minister for Agriculture and Rural Development, Chief Audu Ogbeh, says the Federal Government's efforts to change the grazing patterns of herdsmen are aimed at addressing farmers-herdsmen clashes in Nigeria.
The minister told newsmen in Gombe on Tuesday that the government was determined to change the grazing patterns of herders by building dams and providing grasses for them.
He said that a change in the pattern of providing pasture for cattle would reduce farmers-herders clashes, while producing healthier cattle and guaranteeing better milk production.
"We are changing the pattern of cattle rearing to meet best global standards and address the farmers-herders clashes.
"I know that what the herders are doing now is what they are used to. To them, the arrangement is cheaper because it is easier to move the cows around.
"Apart from the fact that the old method of grazing is the major cause of the clashes we now experience, it is also a threat to the herders.
"It exposes them to snake bites, hyena attack as well as typhoid and malaria infections. Also, the herders suffer a lot from the activities of cattle rustlers. So, the new grazing arrangement will lead to a win-win situation for all.
"We are saying it is time to change that pattern of pasturising. So, we are reopening the old grazing reserves to meet the standards anywhere in the world.
"The ministry is working and in a few days from now, we will get approval from the President (Muhammadu Buhari) to build artificial lakes, dams and get grass so as to start as quickly as possible.
"We have tested this in Kano; the herders there are looking healthier and happier as they need not roam the bushes again.
"Cows need two things — water and grass. If we can provide these needs, why suffering the cows by forcing them to move from Kano to Lagos, which leads to poor milk production.
"The Nigerian cow produces the lowest milk in the world: one litre per day instead of 40 litres, as obtainable in Europe. A cow in our new grazing reserve in Kano produces about 25 litres of milk per day.
"This new grazing reserve will stop farmers-herders clashes in Nigeria, while guaranteeing better living conditions for herders and improving milk production to meet local and foreign demands," he said.
Ogbeh said that the Federal Government was working to enrich farmers and ensure their peaceful co-existence with herders so as to consolidate the progress so far recorded in the agriculture sector.