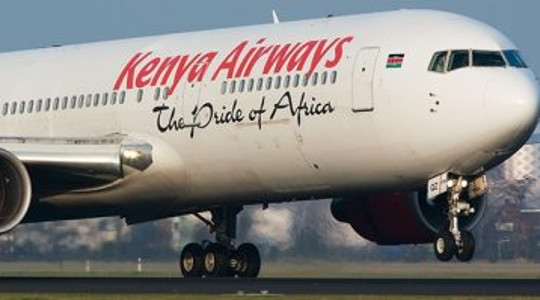 Kenya Airways is close to winning approval to run the country's main airport in Nairobi, looking to copy a model that has enabled rivals to overtake it, its chairman said on Monday.
Michael Joseph said the loss-making airline had proposed forming a special purpose vehicle with state-run Kenya Airports Authority (KAA) allowing the airline to run Jomo Kenyatta International Airport for a minimum of 30 years.
Kenya Airways, which is owned 48.9 per cent by the government and 7.8 per cent by Air France/KLM, had two billion dollars of debt restructured by the government and shareholders last year.
It is planning new routes as it tries to recover from years of losses.
The plan to run Jomo Kenyatta airport is vital for the national flag carrier's survival as it has faced limited choices after last year's financial restructuring, Joseph said.
"All our competitors are state-owned, state-controlled, state subsidised and managed for the benefit of the airline.
We are the odd one out," he told the Media.
The carrier also faces stiff competition from state-backed carriers, including Gulf-based Qatar and Emirates.
Joseph said the cabinet discussed the proposal and gave the "go-ahead" last week.
Transport Minister James Macharia declined to comment when asked by the Media if the proposal had been approved by the cabinet.
The plan to change Kenya Airways' model, which will require parliamentary approval, will be finalised some time this year, Joseph said.
The Jomo Kenyatta airport is owned by the KAA, which has run it until now.
Kenya Airways proposes to pay the airport authority concession fees and to run other profitable services at the airport including catering, fuel distribution, cargo and ground services facilities and maintenance.
The concession fees have not yet been agreed upon.
As the airport operator, Kenya Airways would have a say on takeoff and landing slots, though Joseph denied that is the aim.
Joseph cited Ethiopian Airlines, which uses a similar model to the proposed one at its hub in Addis Ababa.
Kenya Airways said the proposal would enable the carrier to grow its fleet from 32 to 55 and start flying to 20 new international destinations by 2022.
That will allow it to carry nearly seven million dollars passengers, up from about four million dollars now.
The company will invest in parallel in the airport facilities to enable it to handle more than 11 million passengers annually by 2022, up from 7.4 million now.
Aviation analysts said Nairobi's international airport is a cash cow for KAA and it offered potential to grow.
KAA said it gets revenue of 13.5 billion shillings (133.93 million dollars) from the Jomo Kenyatta airport per year.
It also gets three billion dollars from non-aviation services like leasing of space to restaurants, without commenting further.
Kenya Airways sunk into losses in 2013 after costly purchases of aircraft coincided with a slump in tourism and business travel to Kenya after a spate of attacks by Somalia-based Islamist militants.
In March, Kenya Airways reported a nine-month pre-tax loss of 5.97 billion shillings (59 million dollars) and an after-tax loss of 6.1 billion shillings, hurt by a prolonged election period and rising fuel prices.
In a document presented to the cabinet and seen by Reuters, Kenya Airways argued that Ethiopia and Rwanda had responded faster and better to changes in the aviation sector.
Ethiopian Airlines was half the size of Kenya Airways in 2010 and it had grown by three times, due to the model of coalescing aviation assets like airports around the national carrier, the proposal read.
Joseph also said that Kenya handed competing carriers an advantage as other African governments did not open up their airspace by adopting a free skies policy in 2015.
Ethiopian operates a minimum of three direct flights every day to Nairobi, while Kenya Airways operates a single daily flight to Addis Ababa.
In January nearly two dozen African countries including Ethiopia launched a single aviation market.
Load more