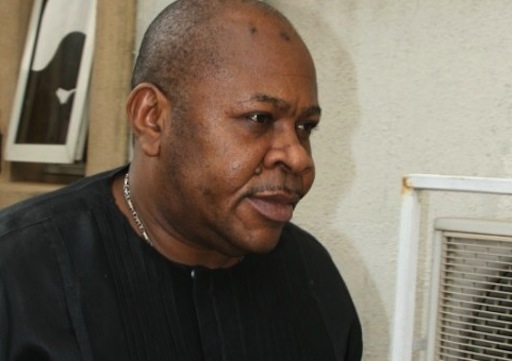 Mr Michael Kramer, a German on Tuesday narrated to an Ikeja Special Offences Court, how Fred Ajudua, an alleged serial con man, allegedly defrauded him of 550,000 dollars 25 years ago.
Kramer, 67, a resident of Schlusta, Germany, gave his three-hour testimony in German Language.
His testimony was translated to English Language by Ms Damilola Adewale, a staff of the German Consulate.
While being led in evidence by Mr Seidu Atteh, the lead Prosecuting Counsel of the EFCC, Kramer explained to the court how he met Ajudua.
He said: "I currently work as a small car dealer and I also do some artisan jobs on the side.
"I knew Fred Ajudua through Mr Ziad Abu Zalaf. Mr Abu Zalaf was a customer of my company at the time.
"At that time I was selling expensive cars and I met Mr Abu Zalaf towards the end of the 1980s as he bought cars from me regularly.
"In 1993, he came to me and made a business proposal to me, showing me various documents which he had received from a business partner in Nigeria.
"Some of those documents had the name Fred Ajudua on them.
"Mr Abu Zalaf had developed a good relationship over time and he was a good customer of mine, he approached me that he needed 550,000 dollars to complete a business deal.
"I told him I will make the 550,000 dollars available but that I had to accompany him to Nigeria to confirm the business deal and we agreed on a date to travel to Nigeria.
"We flew into Nigeria on June 17, 1993 and when we arrived, we checked into the Sheraton Hotel, I had the money with me and I put it in the hotel safe.
"A partner of Ajudua came to meet us at the hotel and asked us if we had the money with us, we confirmed to him that we had the money with us but we needed some kind of confirmation before giving it to him.
"Some days later, Mr Abu Zalaf got an appointment to see Mr Fred Ajudua''.
Kramer further said: "we got into a car to see him at his office and that was the first time I will ever see Ajudua''.
Kramer further told the court of his first impression meeting Ajudua noting that Ajudua's purported office had an aura of legitimacy.
"Before getting into the office, we saw some men in uniforms and some big cars in the office.
"A receptionist welcomed us and asked us to sit and wait, after waiting for about 30 minutes; we were asked to go into the office of Mr Fred Ajudua.
"When I got into the office, I saw lots of pictures on the wall as well as law books that convinced me this was a lawyer of high repute.
" I also remember seeing an old telephone on the wall.
"Mr Fred Ajudua greeted us very cool and then proceeded to immediately ask Mr Abu Zalaf if he had the money with him.
"Mr Abu Zalaf said yes that he had the money but it was not with him right there and Mr Ajudua got angry and said he had to bring the money immediately.
"Ajudua warned that if he (Zalaf) did not bring the money on time, the contract will be lost.
"Mr Abu Zalaf turned and spoke to me and I said that before I can hand over the money, I need to see an irrevocable bank transfer document.
"Mr Abu Zalaf asked Mr Ajudua if it was possible to get this irrevocable bank transfer document and Mr Ajudua said that wasn't possible.
"I then told Mr Abu Zalaf that I still need a document that will prove that I handed over the money.
"Mr Ajudua then said that he was ready to give us an original document that will serve as a receipt that he collected the money from us and we left and went back to the hotel.
"When we got back to the hotel, myself and Mr Abu Zalaf discussed this matter further.
"Some days later, I decided that because I really wanted to help Mr Abu Zalaf, I will give him the money but I insisted on collecting the receipt as proof.
"I then handed the money from the hotel safe to Mr Abu Zalaf who took the money to Mr Ajudua, promising that he will collect a receipt from him.
"Zalad returned with an original document signed by Mr Ajudua'', Kramer said.
The prosecution tendered the receipt as evidence and it was marked as exhibit one.
The German in his testimony revealed how on his return to his country, the alleged fraud began to unravel as well as his subsequent personal losses.
"After collecting this document from Mr Abdul Zalaf, I waited till June 24, 1993 before I returned to my country.
"Before returning to Germany, Mr Abu Zalaf was supposed to receive some payment from Mr Ajudua as part of a contract deal.
"On my return to Germany, I was constantly calling Mr Abu Zalaf to see if he had received the payment but to no avail as I did not hear from him.
"I could not fund my business because I had given him all the money I had and because part of this money was a loan from the bank.
" I lost my house which was part of the collateral and I lost my business because I could no longer fund it.
"My wife divorced me because I could no longer provide for my family.
"I later realized that this entire business contract was a fraud and I will not receive my money back.
"And because I was in Germany, I could not do much about it.
"I later came in contact with one Mrs Springerbeck and I found out that she could help me pursue the case in Nigeria.
"I gave her the document I had with me and so far, she has been pursuing the case," he said.
Upon his cross-examination by Mr Norrison Quakers (SAN), Counsel to Ajudua, Kramer revealed that he had neither filed a suit nor a formal complaint before a court in Nigeria about the purported fraud.
"I was 42-years-old at the time of the transaction, I never lodged a formal complaint before any court but I made a statement to the EFCC.
"My statement to the authorities was originally written in German because I do not speak perfect English.
"Mrs Springerbeck transcribed it to English Language and I copied it out from her writings.
"I did not give Mrs Springerbeck a power of attorney but I orally told her to help me handle the case and she made the arrangements for me to come to court.
"I have been working with Springerbeck for a long time since I lost my money in Nigeria.
"I lost my company in 1995, two years after my initial meeting with Ajudua," he said.
Ajudua, who is currently on remand at the Kirikiri Prisons, plead not guilty to a 12-count amended charge of conspiracy to obtain money by false pretences among other allegations.
According to the prosecution, the defendant committed the offence in 1993.
"Between April and May 1993, Ajudua, conspired with one Joseph Ochunor who is at-large to obtain money by false pretense from Abu Zalaf.
"Zalaf had worked with Technical International Ltd., a division of Mystic Company Ltd., a German-based company.
"With intent to defraud, Ajudua and Ochunor obtained $268,000 on April 2, 1993 from Zalaf and on May 12, 1993, the men fraudulently obtained the sum of $225,000 from Zalaf again.
"On June 21, 1993, the duo also fraudulently obtained $550,000 from Zalaf," he said.
Atteh said Ajudua and Ochunor in a bid to give credence to the alleged scam forged CBN and NNPC receipts and presented them to the foreigner as genuine.
"In order to facilitate the scam, on April 7, 1993, the duo knowingly and fraudulently altered and forged CBN official receipt No. 128.
"On May 12, 1993, they altered and forged a receipt with No. 138 purportedly issued by the CBN.
"On May 12, 1993, the men forged a Contract Completion Certificate purported to have been issued by the NNPC, Falomo, Lagos to Mystic Limited of 1, Church Street, Douglas, Isle of Man.
"The forged certificate was to show that the NNPC had completed contract number NNPC/EED/8024/79'', the EFCC prosecutor said.
According to the prosecution, the offences contravened Sections 419, 467(2)(a), 468 and 516 of the Criminal Code Law of Lagos 2003.
Justice Mojisola Dada adjourned the case until June 7 for continuation of trial.