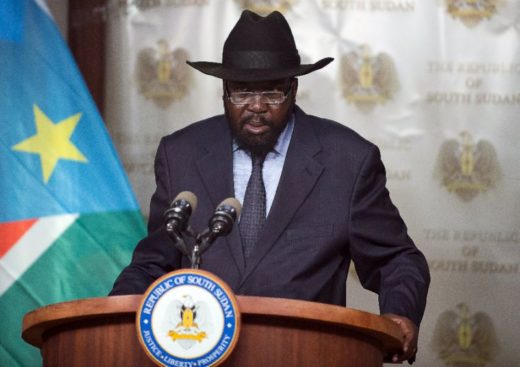 President Salva Kiir of South Sudan has agreed to hold peace talks with rebel leader, Riek Machar, as the international community ups the pressure on the warring parties to reach a deal.
Kiir agreed to attend talks proposed for June 30 in neighbouring Sudan's capital Khartoum, though there was no information on whether Machar would also be attending.
"Kiir has agreed to meet with the leader of the opposition Machar at the end of June," South Sudan's acting foreign minister, Martin Lomuro, said.
Kiir and Machar have not met since the latter fled the country in 2016, ending up in exile in South Africa.
Multiple ceasefires and peace efforts have led nowhere in the past.
"The president is ready to meet with Machar. Kiir is a keen peacemaker. He has agreed to go to Khartoum for a peace meeting," Presidential Spokesman, Ateny Ateny, said.
The face-to-face meeting is one of the recommendations of the regional Intergovernmental Authority on Development (IGAD) and comes after the UN warned of further sanctions if no peace deal is reached.
South Sudan – the world's newsest country, having split from Sudan in 2011 – descended into civil war in 2013 after Kiir accused his then-deputy, Machar, of plotting a coup.
Four-and-a-half years of civil war have killed tens of thousands of people and about four million South Sudanese have fled the fighting.
Separately on Wednesday, the Norwegian Refugee Council warned of a looming hunger crisis in the country after a recent upsurge in fighting.