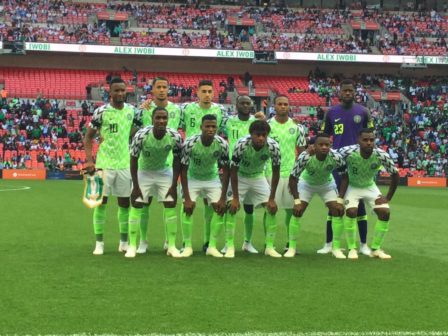 Nigeria has dropped a point from its last month's 47th position to 48 place in the world, and from sixth to seventh in the continent, in the latest FIFA rankings.
The statement on FIFA's website on Thursday said the recent flurry of pre-FIFA World Cup friendlies left its mark on the latest rankings.
While the top three positions are unchanged as Germany, Brazil and Belguim sit respectively, Russia-bound duo of Poland and Uruguay have succeeded in making strides within the top 20.
Super Eagles World Cup Group D foes Argentina, Croatia and Iceland are on fifth, 20th and 22nd positions respectively.
In Africa, Tunisia moved seven places down from 14th in the previous rankings to 21 as the continent's top ranked team.
Senegal follows in 27th place, while DR Congo stayed on 38 with Russia-bound Morocco on 41st place and Egypt in 45th position.
Ghana, a non-participant at the World Cup moved three places to 47th and sixth in the region.
The next rankings will be released on July 19.