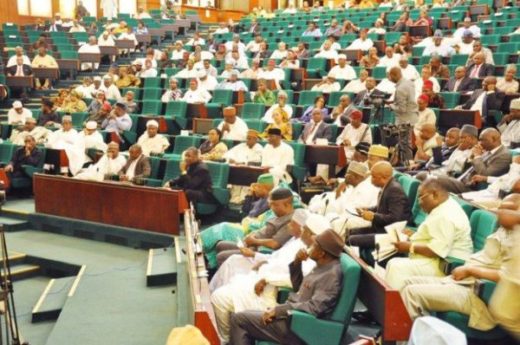 The House Representatives on Thursday called on the Federal Government to address the ecological and humanitarian crises in the Lake Chad Basin and increase its budgetary allocations.
This followed a motion by Rep. James Faleke (APC-Lagos).
Moving the motion, Faleke reminded the house that Lake Chad Basin Commission was established in 1964 to harness the resources of the lake for aquaculture, potable water and livestock and irrigation for agricultural development.
He explained that since the establishment of the commission, the surface area of the lake, which was more than 26,000 square kilometres, had been decreasing.
Faleke said that the situation was due to increased demand on the lake's water from the local population as well as shifting climate patterns, and was currently less than 1,400 square kilometres.
He expressed concern that the decrease in the surface area had resulted in desertification and a decline in vegetation, causing humans and other natural species in the area.
Faleke also expressed concern that shrinking of the lake had caused several conflicts as to which countries that bordered Lake Chad had the right to the remaining water, consequently leading to increasing violence in the area.
He said that due to the situation, food insecurity and malnutrition in the region had reached critical levels.
He said that reports showed that humanitarian crisis across the Basin was one of the World's most severe and had resulted in mass displacement and migration of people from the region.
According to the lawmaker, the allocation of only N1 billion in the 2017 budget to the Lake Chad Basin Commission is meagre compared to the ecological catastrophe and humanitarian crises in the region.
In his contribution, Rep. Yusuf Buba (APC-Adamawa) said that the major causes of Boko Haram insurgency was a result of the river basin shrinking which was a major source of livelihood for North-East.
He also supported the motion, asking that the issues be resolved.
The motion was unanimously adopted by members when it was put to a voice vote by the Speaker, Mr Yakubu Dogara.
The House, therefore, urged the Federal Government to make efforts to resolve the crises in the Chad Basin and increase budgetary allocations for Lake Chad Basin Commission.
It also urged the government to renew commitment to the protection of Internally Displaced Persons (IDPS), provide emergency life-saving assistance and work closely with development partners to address the crises.
It mandated the Committees on Lake Chad, Climate Change and Water Resources to liaise with the Ministries of Environment, and Water Resources and Lake Chad Basin Commission and other partners for solutions to the problems.
The committees were directed to report back within eight weeks.