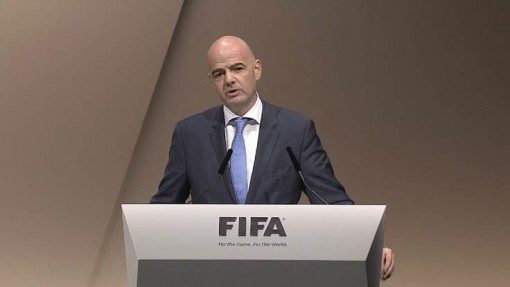 About 120,000 extra tickets for 2018 FIFA World Cup matches in Russia have been sold in the first hours after the sales began, the FIFA press office reported on Saturday.
The sales of extra tickets reserved for various FIFA constituent groups started at 11:00 p.m. Moscow time on June 8. Overall, more than 2.5 million tickets have been allocated since ticket sales began in September 2017.
"A few hours after an additional inventory of 2018 FIFA World Cup tickets became available at FIFA.com/tickets, 120,000 tickets have already been allocated and currently only a limited inventory for selected matches is remaining available for purchase online," the FIFA press office said.
As of 10:00 a.m. Moscow time, tickets for 35 World Cup matches in Russia were available on FIFA's official website.
According to TASS, ticket prices for FIFA World Cups, as well as for preceding Confederations Cup tournament matches, are usually divided into three categories, while the global football organization visas the price for each category. A special fourth category, which is the cheapest one, was introduced by FIFA in July 2016 and was reserved for residents of host country Russia.
According to FIFA's ticket price policy, officially announced in July 2016, 3rd category ticket prices range between $105 and $285, 2nd category – $165-$480, and 1st category – $210-$750. Tickets for the opening and final matches of the world championship have a different price policy.
The world's football organization keeps reiterating that at the request of the Russian authorities, all fans attending matches at the 2018 FIFA World Cup need to apply for a Fan-ID – the official identity document issued to fans.
Russia came up for this FIFA World Cup with an innovation, which is the so-called Fan-ID and it is required for all ticketholders. This innovation was successfully tested during the 2017 FIFA Confederations Cup in Russia and earned high marks from the world's governing football body.
The Fan-ID plays an important security role during the major football tournament in Russia as it grants admittance to the stadiums and also serves as visa for foreign visitors to enter the country.
A Fan-ID holder is allowed to enter the country without having a Russian visa and stay for the duration of the global football tournament. Fan-IDs are obligatory, in addition to purchased tickets, in order to attend matches of the 2018 World Cup tournament in Russia.
The 2018 FIFA World Cup kicks off next Thursday with the opening match in the Russian capital of Moscow between hosts Russia and Saudi Arabia.
Russia selected 11 host cities to be the venues for the matches of the 2018 World Cup and they are Moscow, St. Petersburg, Sochi, Kazan, Saransk, Kaliningrad, Volgograd, Rostov-on-Don, Nizhny Novgorod, Yekaterinburg and Samara.
The matches of the 2018 World Cup will be held between June 14 and July 15 at 12 stadiums located in the 11 mentioned above cities across Russia. Two of the stadiums are located in the Russian capital.

Load more