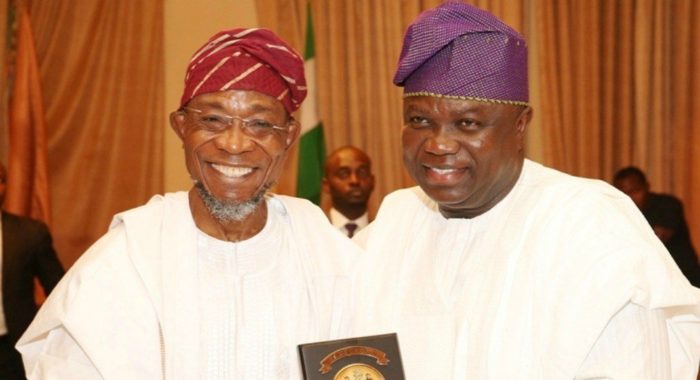 The All Progressives Congress (APC), Lagos State Chapter, has been thrown into another crisis, which allegedly emanated from the plan by Osun State Governor, Mr. Rauf Aregbesola to stop Governor Akinwunmi Ambode from seeking re-election.
Some party leaders, who spoke with select journalists in confidence at the weekend, alleged that Aregbesola had started lobbying the National Leader of All Progressives Congress (APC), Asiwaju Bola Tinubu not to support Ambode's re-election.
They alleged that the Osun governor, currently planning to contest senatorial election in Lagos West, had been working with the Speaker of the State House of Assembly, Hon. Mudashiru Obasa and Chairman of the House Committee on Lands, Hon. Bayo Oshinowo to prevent Ambode from seeking re-election.
Apart from the leaders that spoke in confidence, the APC factional leader, Mr. Fouad Oki had confirmed Aregbesola's subtle plan to stop Ambode's re-election and alleged that the Osun governor had been meeting political groups to stop Ambode's return.
The APC factional leader confirmed the plot during a phone conversation with THISDAY at the weekend, claiming that Aregbesola had already approached him to discuss the plot "to stop Ambode from seeking re-election in 2019."
After presenting the plot, Oki claimed that he challenged Aregbesola and supporters in the Mandate Group point-blank "to come out publicly to state their own sides of this narrative or deny whether they did not discuss plan to stop Ambode's re-election with me." He claimed that Aregbesola and his supporters in Lagos "have problems with Ambode. As a result, they have made up their mind on what the likely result of party primaries will be. If they have issues with him, they should not bring it or situate it within the party process."
Specifically, Oki challenged them "to come out with what Ambode has done wrong. They are busy plotting against him. But they have not told him what he did wrong. They should have discussed their concerne with Ambode rather than working against his re-election"
However, Aregbesola's media assistant, Mr. Sola Fasure debunked the allegation against Aregbesola, accusing Oki of making effort "to cause crisis in Lagos APC."
He claimed that the allegation "is totally ridiculous".
"Oki and his followers have derailed. They are only planning to cause crisis where there is no reason for crisis. As a party faithful, we will not allow them to destroy the party," he said.
Contrary to claims of Aregbesola's media assistant, an APC leader in Oshodi buttressed the position of the APC factional leader that the Osun governor had been working against Ambode's re-election in 2019.
He explained the different reasons that pitched Aregbesola against his Lagos counterpart, noting that Ambode's decision to nominate Secretaries to 20 Local Government Areas (LGAs) and 37 Local Council Development Areas (LCDA) was at the root of the crisis.
He explained that the Mandate Group, which was founded by the Osun governor, had been depending on all local councils in the state "to fund their political activities".
"So, they perceived Ambode's decision as affront to their survival," he said.
Another APC leader from Lagos Island ascribed the plot to Ambode's growing public approval across the state, which he claimed, might affect their support base and political patronage they had been enjoying in the last two decades.
He noted that Ambode's immediate predecessor, Mr. Babatunde Fashola was treated the same way between 2009 and 2011, noting that the Mandate Group then pitched Fashola against Tinubu under the guise of the True Face of Lagos.
According to him, they did not succeed then because the stalwarts of the defunct Action Congress of Nigeria (ACN) stood with Fashola, thereby compelling Tinubu "to eventually support the re-election of Fashola in 2011".
"Ambode has not done anything wrong. He has been committed to implementing the APC manifesto. He has been patriotic to the APC national leader to a fault. He has been executing people-oriented projects. These people are working against Ambode in their own interest," he said.
A party leader from Kosofe explained how Aregbesola's undue domination in Lagos APC "has been tearing the chapter apart and pushing some prominent chieftains and members out of the party they have laboured for."
The source alleged that Aregbesola had been working with Obasa and Oshinowo "to frustrate Ambode's re-election simply because he wants to contest senatorial election in Lagos West. Oshinowo too has been nursing ambition to contest senatorial election in Lagos East."
The source said the Justice Forum, a political group loyal to Tinubu rejected and challenged the results of the last congresses before the APC Congress Appeal Committee, noting that there was no consensus among different political blocs on the results of the ward and local government congresses in the state.
He alleged that the results of the local government congress "are still fuelling intractable crisis in the chapter".
"The leaders of different blocs did not agree on the results that were eventually submitted to the national secretariat," the source added.
The source added that the congresses were marked with violence in Agege, Agboyi-Ketu, Alimosho, Kosofe and Somolu, among others, due to what he ascribed "to the winner-takes-it-all approach of the Mandate."
Before 2015 elections, the source explained that there "were four different groups loyal to Tinubu".
"The groups are the Mandate led by Aregbesola, Ideal Group by Chief Oladele Ajomale, Like-Mind by Sen. Ganiyu Solomon and Justice Forum. We all signed an agreement two years that there should not be any political group again. Tinubu was privy to the agreement. After the agreement, other leaders collapsed their groups in honour of the agreement. But Aregbesola did not honour the agreement," he said.
"In the House of Assembly and all local councils, Oshinowo has been compelling all elected and appointed officers to join the Mandate contrary to the agreement. They always attribute their decision to Tinubu. But we all know it is not true. In Kosofe, there was a case of violence. The congress could not hold. In Agboyi-Ketu, there was not congress too. In Alimosho, there was no congress at all. There is no local council where there is no issue just because Aregbesola and Oshinowo want to control the APC structure in Lagos. In the party, there is no trust again. A lot of party chieftains are happy. Oki and his supporters left before Aregbesola and Oshinowo. Others leaders, who have not left, are not happy because they have been excluded," he said.
-Culled from Thisday