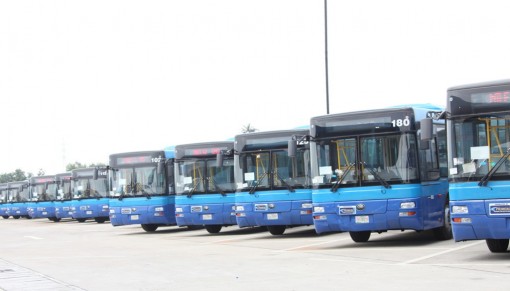 The world's major bus and coach supplier, Yutong, on Monday said that Lagos State would need about 7, 000 modern buses to reduce the problems of public transportation across the state.
Yutong's Vice General Manager for International Business, Mr Kent Chang, also said that other States in Nigeria would each need about 500 modern public buses.
Chang, who spoke with the News Agency of Nigeria (NAN) on the sidelines of a visiting delegation of Nigerian Journalists on tour of the company's factory, said that Nigeria needed to learn from China.
"For Nigeria to reduce the problems of traffic congestion and make transportation much easier for her people, it is important to have more modern public buses.
"China was able to reduce the problems of Public transportation through the use of public buses. So, Nigeria can also begin to engage in the use of more public buses.
"Lagos, as its busiest and most populated city, would need about 7, 000 modern buses to reduce the problems of public transportation in the state.
"Other states across Nigeria should start with about 500 of the same buses each. That way, there will less smaller public buses on the roads,'' he said.
Chang, who said that some of his organisation's buses were gradually increasing on Nigerian roads, expressed the company's readiness to supply Nigerian governments and private organisations with more buses, as the needs arise.
The company's vice general manager for international business was interested in supplying more buses that would be built to Nigeria's specifications.
According to him, Yutong is currently exporting buses to France, UK, Australia, Cuba, Venezuela, Russia, Saudi Arabia, South Africa, Chile, Singapore and the Philippines.
"By the end of 2017, "Yutong had eight Overseas spare parts centres in Australia, France, Russia, Cuba, Dubia, Venezuela, Panama and South Africa.
"Yutong has exported 44 fully electric intercity buses to France, and is ranked first regarding the sales volume of full electric intercity buses to Europe,'' he said.
As the No.1 bus brand in China, Yutong boasts of a powerful Research and Development capability and has the largest bus production base in the world.