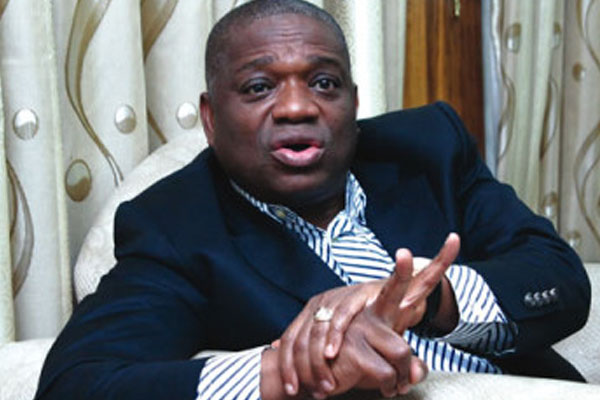 A former Abia Governor, Dr Orji Uzor Kalu, says President Muhammadu Buhari has addressed the injustice associated with the annulment of June 12, 1993, Presidential Election by declaring the date as Nigeria's true democracy day.
Kalu made the assertion on Monday while speaking with newsmen at the Murtala Muhammed International Airport, Lagos.
He lauded Buhari for awarding the acclaimed winner of the election, Chief MKO Abiola, the title of the Grand Commander of the Federal Republic (GCFR) posthumously and also recognising other key figures in the struggle.
According to him, with the recognition of June 12, Buhari has proven to be a true democrat and has put Abiola on the map of the world which past presidents failed to do.
He urged the president to go further by honouring the then National Electoral Commission (NEC) Chairman, Prof. Humphrey Nwosu, for conducting the election which was largely regarded as the freest and fairest election in Nigeria.
Kalu also appealed to Buhari to address the injustice done to the people of the South-East during the civil war era by declaring the region as a "Special Area".
"The civil war affected the area very much and people were given 20 pounds. A lot of ill-treatment was done to people from that area because of that civil war. People lost their lives and properties," he said.
On the recent signing of the fourth amendment bill by the president, he said he was particularly excited that Buhari had deepened the democratic space by granting financial autonomy to the state legislatures and judiciary.
"With what Buhari has done now, the House of Assembly will become very powerful and they can say no to the governor. So, we are certain to have democracy.
"Also, a truly independent judiciary is very good for the nation and will be able to deliver far-reaching judgments," Kalu added.