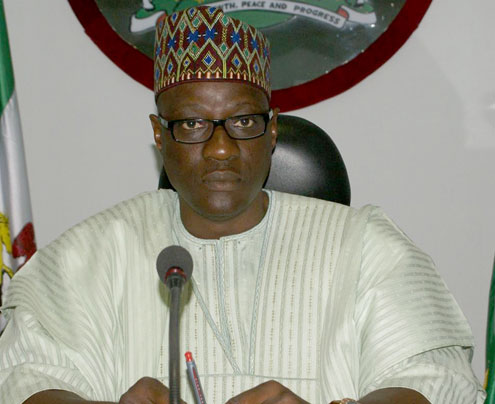 Gov. Abdulfatah Ahmed of Kwara has called for the consolidation of the unity of purpose expressed by the Nigerian electorate on June 12, 1993, elections.
He said this while addressing State House Correspondents after he paid Vice President Yemi Osinbajo a private visit at the Presidential Villa.
The governor was reacting to the investiture of late MKO Abiola with the GCFR having been declared the official winner of the annulled June 12 polls by President Muhammadu Buhari.
At the event, civil rights activist, Chief Gani Fawehimi, and Abiola's running mate, Amb. Babagana Kingibe were also decorated with GCON honours respectively.
According to Ahmed, June 12 activity today is a very significant one and we are happy that even if it has been seen as a watershed it signifies one very important thing.
"For me, June 12 is a programme that should not be seen as just an avenue to honour Chief MKO Abiola and others that got an award.
"But as a remembrance of a day where Nigerians expressed themselves as a people devoid of religious and ethnic differences.
"That is what June 12 should represent for us as a country and that is where we need to consolidate to move ourselves forward as a people,'' the governor said.
Ahmed said he visited the Vice-President concerning issues involving the Micro, Small and Medium Enterprises (MSMEs) scheme being run in the state and to give him some updates on them as well as to discuss the success stories and the challenges.
He said that the state had keyed into the MSMEs programmes of the Federal Government because the programme was congruous with the one being operated by the state.
"It (the MMSE focus lab) was like coming as an up-scaling capacity for us.
"For us, it has really worked out well as it keyed into the programme of our ministry of human capital development,'' he said.
Ahmed recalled that his administration just set up an international vocational centre, "which we hope the Federal Government and other institutions will take advantage of to begin to see how to drive entrepreneurship beyond the level of training we have in regular schools.
"If you look at it, that is the major gap that requires to be filled in the economy,'' he noted.
The governor added that the state had seen itself truly becoming the net promoter of skilled workers, adding that the opportunity to train its people within the population was huge.
"That is why we set up a school like that and we hope that the MSMEs programme will take full advantage of what has taken place.''
On grassroots sports development in the state, the governor stated that Kwara had focused on tapping them young to provide young athletes to represent the state and country in international events.