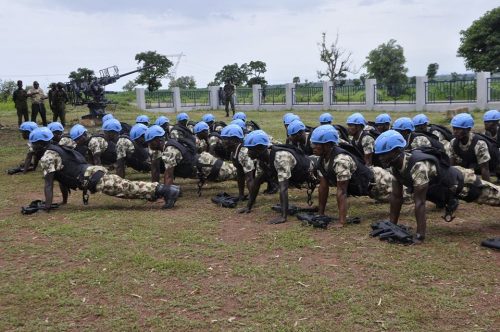 Dr Shehu Baju, the Chief of Mambilla in Sardauna Local Government Area (LGA) of Taraba
on Wednesday commended the Nigerian Air Force (NAF) for its operations on the Mambilla Plateau.
Baju disclosed this while speaking with newsmen in Gembu, a border town with the neighbouring Cameroon Republic.
He said the people of the area were extremely delighted with NAF operations in their communities.
The monarch commended President Muhammadu Buhari and the Chief of Air staff, Air Marshal Sadique Abubakar for establishing a quick response unit of the Air Force on the plateau.
"We are extremely delighted with the operations of Nigerian Air Force on the Mambilla Plateau.
"As you can see, the people of our communities are no longer living in fears of attack, they are jubilating the return of peace due to the presence of the Air Force.
"We have always maintained that the difficult terrain that we have on the plateau can only be secured effectively by the Air Force and the establishment of a NAF unit on the plateau is a dream come true," he said.
Baju explained that the special Air Force unit in the area is leading other security operatives in ensuring prompt response to any threat to peace in the communities thereby ensuring sustainable peace.
Also speaking, Alhaji Yusuf Yaro, one of the residents also lauded NAF operations in the area.
"In fact we can only appeal to the Federal Government to make the Air Force unit on the Mambilla Plateau a permanent base.
"We are happy with the professional manner with which they engage our people with a view to tackling any issue that could result in violence in our communities," he said.
Yaro expressed optimism that the return of peace would ensure the smooth take off of the proposed Mambilla Hydro Electric Power Dam and other projects for the good of the people.
The plateau had witnessed some attacks by gunmen between June, 2017 and March, 2018 where hundreds of lives were lost and many properties destroyed.