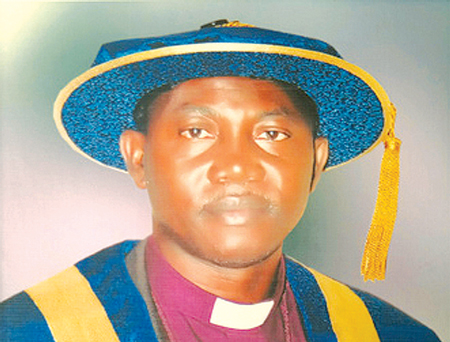 Gbenro Adesina/Ibadan
The Vice Chancellor, Ajayi Crowther University, Professor Dapo Folorunsho Asaju has raised the alarm over the high rate of Nigeria-trained doctors migrating to United Kingdom, UK, which he considered as an impending calamity in the Nigeria health sector.
Asaju, who raised this alarm while presenting the 74th Interdisciplinary discourse of the University of Ibadan, Postgraduate school entitled "Religious undercurrents in the evolution of education in Global context", said that ninety percent of those writing examinations to practice medicine in UK are doctors from Nigeria.
The VC was concerned that Nigeria Government was not unperturbed by the massive brain drain in health sector, saying that the danger of this was that the nation would be short of quality medics that could provide quality medical care to the Nigerians.
The professor of Christian theology who noted that while religion has been deployed by the elites as a divisive tool in Nigeria, education without religion moral teachings is responsible for increasing social vices and terrorism.
Displaying his dismay over the production of graduates only in paper qualification and not on sound morals which would impact the society, the don pointed out that production of academically sound people without character would amount to the production of 'clever devils'.
He said, "People have been crying of brain drain and it appears that Nigeria is not even mindful of the implications of what is happening. I have found out that of all those who write qualify examination to practice medicine in UK, 90 percent are doctors from Nigeria. This is a crisis. When you have put in your very best, you train so many people, you have invested in them only for them to get their certificates and we abandon the sick people who are dying in this country to treat those who are already well. It is a calamity.
"Woe unto a nation whose best would desert her shores to go abroad for the sake of pound sterling or dollar to live life of affluence abandoning people who are so much in need of their expertise, those who invested everything to make them who they are. There is another crisis of morals. We have first class brain who are empty in terms of morals. If our universities continue to produce first class students without character, they would have succeeded in producing a bunch of clever devils.
"That is why we have very brilliant people but they have no character. They carry first class degrees from universities but put them in places of work they don't have the minute of discipline of punctuality, probity, accountability, or have integrity. It is now very difficult to find good workers in Nigeria."
In his remarks, UI VC, Professor Idowu Olayinka said Nigeria must determine the place of religion in its educational system given the confusion and controversies surrounding the role religion play in our communal life.
Olayinka said, "It is true that Nigeria educational policy makers in their wisdom, believe that students can learn everything they need to learn without learning anything about religion. Nevertheless, this has continually fueled the culture wars that now divide many of our communities and undermine educational mission of our schools".

Load more