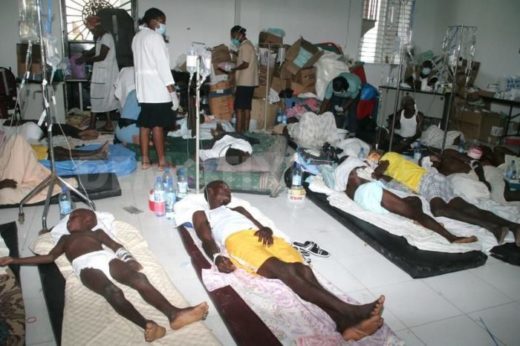 The Kogi Government on Thursday confirmed 17 cases of cholera out of which three had died in Kabawa Uphill Community area in Lokoja, the state capital.
The Permanent Secretary, Kogi Ministry of Health, Kolawole Johnson, disclosed this to journalists at a news conference in Lokoja.
According to him, the ministry got a report of an outbreak of cholera in Kabawa on Wednesday from the Lokoja Local Government Disease Surveillance and Notification Officer (DSNO).
He said that the Commissioner for Health, Dr Saka Audu, immediately directed the Rapid Response Team of the ministry to investigate the outbreak and respond appropriately.
"From the findings, 17 suspected cases of cholera; nine males and eight females mostly adults, out of which six are currently on admission receiving treatment. We have two positive cases by RDT," Johnson said.
He, however, added that the state had confirmed three deaths from cholera in the Kabawa Uphill Community of Lokoja, where the outbreak occurred.
He added: "During the active case search, the community was also given health education on personal hygiene and environmental sanitation.
"Key community influencers were sensitized on the need for proper hand washing, personal hygiene and adequate treatment of drinking water by boil, and not to drink water from unprotected well.
"Environmental and water samples were taken for analysis and preliminary result is negative for Vibro Cholera (the Causative Organism of Cholera).
"Rapid Diagnostic Test Kits are also being made available for prompt diagnosis of cases, and the surveillance team will continue to be on the watch for early identification of cases and ensure timely response."
The permanent secretary, therefore, advised the general public to remain calm and vigilant and to report any case of diarrhoea and vomiting to the nearest health facility for proper diagnosis and treatment.
He commended the state rapid response team and Lokoja LGA, for their prompt action, and the state government for providing the needed logistics to the ministry.