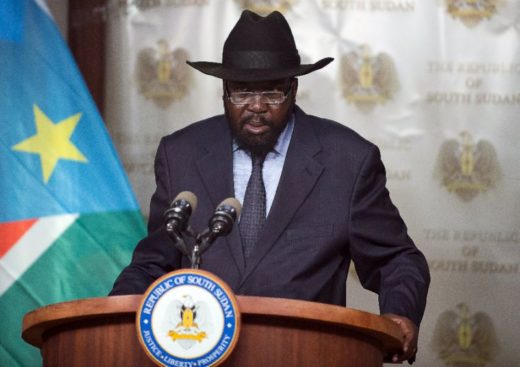 Experts on Thursday said the much-awaited meeting between President Salva Kiir and rebel leader Riek Machar will help diffuse tension and build lost trust among the warring parties.
Jacob Chol, associate professor of politics at University of Juba, told Xinhua that the planned Monday meeting between the two rival leaders in Ethiopia will help restore communication and build lost trust and confidence in the peace talks and also enhance the reputation of mediators from the East African bloc IGAD.
"These leaders have not met for two years since the July 8, 2016 incident, so this meeting will help reduce tension by opening up communication channels, build lost trust and confidence for both principals and mediators," Chol said in Juba.
He added that it will also help South Sudanese regain hope in the peace talks despite having borne the painful brunt of the more than four years conflict that has caused economic hardship amid hyperinflation.
"In case South Sudanese hear there is a meeting between these leaders it makes them happy and even minimizes the bad experiences the prevailing economic crisis has brought on them," he disclosed, adding that it even boosts hopes of the internally displaced persons and refugees.
Edmund Yakani, director of Community Empowerment for Progress Organisation (CEPO), said South Sudanese are so expectant of the face-to-face meeting between the leaders as it offers an opportunity for the other armed groups to also join the process of resolving political difference in non-violent manner.
"The approach of resolving political difference militarily is not workable and it is destructive to the citizens and nation. It is proof that violence never gains," he said.
Yakani revealed they are expecting the meeting to tackle the outstanding issues on revitalizing the Agreement on the Resolution of Conflict in South Sudan and provide road map for the other armed groups to offer their take for non-violent resolution of their political difference with the government and the Sudan People's Liberation Army-in opposition (SPLA-IO) led by Machar.
"It is time to demonstrate that we can resolve our political difference on our own without external pressure," he said.
He also said that any failure to meet by the leaders will empower the regional and international observers to revert to pressuring the warring parties that do not necessarily help the warring parties.
South Sudan descended into civil war in late 2013, and the conflict has created one of the fastest growing refugee crises in the world.
A 2015 peace agreement was shattered when the warring parties renewed fighting in July 2016 in the capital forcing Machar to flee into exile.