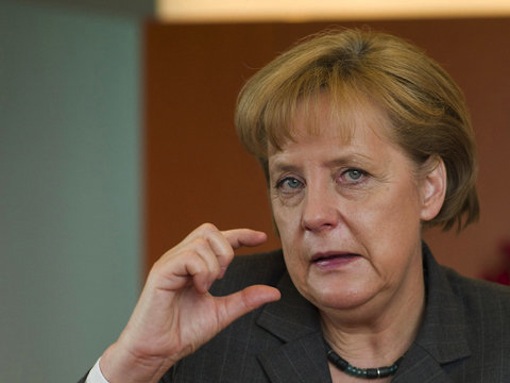 German Chancellor Angela Merkel struggled on Thursday to find a compromise on migrant policy with her Bavarian allies to avert a crisis in her loveless coalition just three months after it took power.
German Chancellor Angela Merkel looks on during a news conference with Belgium's Premier Charles Michel (not pictured) in Berlin, Germany June 13, 2018.
Her own authority is at stake and possibly the future of her alliance with Bavarian conservatives and Social Democrats at a time when divisions within Europe have come to a head over how to deal with a ship carrying migrants near Italy.
The showdown with Interior Minister Horst Seehofer and his Bavarian Christian Social Union (CSU) is over his "Masterplan for Migration'', a blueprint in which he wants to show voters a new tough line before a difficult Bavarian election in October.
There was no immediate deal in sight after a "crisis meeting'' and in an extraordinary move, the parliamentary groups of the CSU and Merkel's Christian Democrats (CDU) were holding separate gatherings.
The two form a parliamentary bloc.
Sources said many CDU lawmakers had agreed to back a compromise proposal made by Merkel but it was unclear if this move pointed to a heightening of the crisis or the nearing of a possible agreement.
Merkel objects to the part of the plan which allows German authorities to reject migrants who reach its borders, drawn by Germany's vaunted prosperity and stability, after having previously registered in other EU states to the south.
Such a move would represent a total reversal of her open-door policy from 2015, which has already been scaled back. She argues that doing this could result in other countries doing the same and that a European-wide solution is the best approach.
Merkel told the CDU leadership that she had proposed that asylum seekers who had already been rejected by Germany could be sent back at the border.
She also tried to buy time until the June 28 and June 29 European Union summit to agree bi- or trilateral deals with EU states in which migrants are first registered but from which they head to Germany.
Nearly three years after suspending EU rules and allowing more than 1.6 million migrants into Germany, the migrant crisis is still haunting Merkel, largely because she has never resolved differences within her conservative bloc.
Her handling of the crisis in 2015 has been widely blamed for a surge in support for the far-right Alternative for Germany (AfD) and their entry to parliament after the September 2017 election.