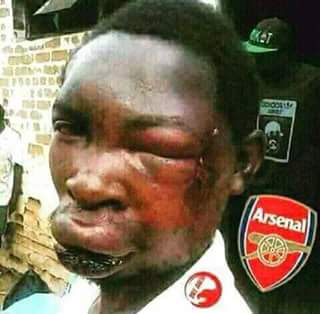 Paul Iyoghojie
Irate mob pounced on a suspected handset snatcher at Iyana-Ipaja bus stop area along the Lagos-Abeokuta expressway, Lagos on Wednesday evening and almost killed him for allegedly snatching a handset from a passenger who was trying to board a bus and took to his heels.
It was learnt that irate mob pursued, caught up with him and gave him the the beating of his life, using every available objects and recovered the stolen phone from him and handed it over to the owner.
A source alleged that the intervention of a motorist suspected to be a senior security officer who alighted from his car to plead with the mob not to kill the suspect but take him to the Police Station, saved the suspect from being killed.
Eyewitnesses informed PM News that trouble started for the teenage suspect when he rushed along with passengers trying to board a Sango-Ota, Ogun State bound bus and in the process, he cleverly removed a Samsung phone from the pocket of a passenger and took to his heels unknown to him that the conductor of the bus had sighted him.
The conductor, it was gathered raised the alarm which attracted the mob, who pursued, caught him and gave him the beating of his life and recovered the stolen phone from him.
A source said that policemen on patrol later saved the suspect from the hands of the angry mob, arrested him and took him away.
Speaking with PM NEWS about the incessant cases of handset snatching at major bus stop in Lagos in recent times,
Mr John Omene, a transporter said, "Lagosians should continue to thank the Governor of Lagos State, Mr Akinwunmi Ambode for providing maximum security for them with the introduction of Neighbourhood Safety Corps.
"I am now appealing to the governor to direct the head of the Neighbourhood Safety Corps to always deploy its personnel to major bus stop in Lagos during rush hours in the morning and evening to reduce the incidents of handset snatching by teenagers who migrated to Lagos from neighbouring States."