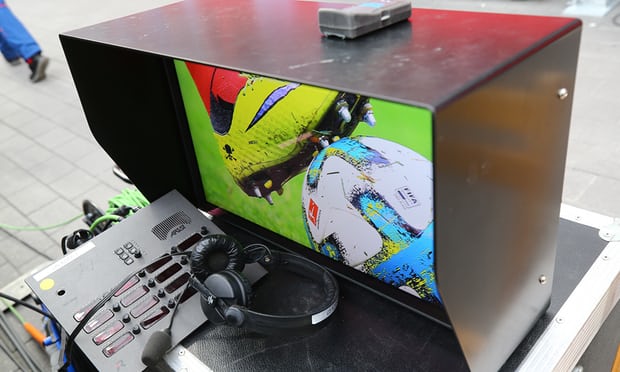 If the strongest advocates of Video Assistant Referees are to be believed, World Cup football will never be the same again after the TV review system makes its debut at the finals on Thursday.
With this one innovation, they believe, contentious refereeing decisions will be a thing of the past, wrongs will be righted and the prospering of cheats brought to an end.
Had VAR been around, goes the thinking, German keeper Toni Schumacher's assault on France's Patrick Battiston in 1982 would have been properly punished.
Similarly, Diego Maradona's "Hand of God" goal in 1986 would have led only to a direct free kick.
For the opponents of this technology, video reviews, particularly of goals, interrupt the natural rhythm of the game as tension builds before being released when the ball hits the back of the net.
Others suggest it brings only confusion where it should bring clarity and some question the technology itself, pointing to some embarrassing failures in leagues around the world which were early adopters.
One of such was this year's A-League final between Melbourne City and the Newcastle Jets, when the Australian title was decided by a single goal despite three City players being offside.
Football Federation Australia (FFA) later conceded the VAR had been unable to review the footage from the relevant camera because of a software glitch.
However, while accepting the technology is not yet perfect, FIFA believes it has this eventuality covered by the sheer number of feeds the VAR and his assistants will have at their disposal.
And whatever the flaws of the system, the possibility of a retrospective red card for an incident missed in real time by the referee is certainly going to concentrate the minds of defenders.
Australia's Matthew Jurman is used to VAR from his club football in the K-League.
He would be highly aware of the all-seeing eye of the camera if he is handed the task of shackling France's attack in Kazan on Saturday.
"These days you can't do much without everybody seeing it," the center half said on Wednesday.
"So you have obviously to be smart about defending, especially around the box."
In spite of VAR's World Cup debut, the battle over its future in the game is not yet won and a high-profile failure in Russia could be fatal to the cause.
For players such as Australia midfielder Jackson Irvine, such considerations are well above their pay grade.
"It's one of those things we don't have control of," he said. "Hopefully, it's going to make sure the big decisions are clear and decisive with no issues."