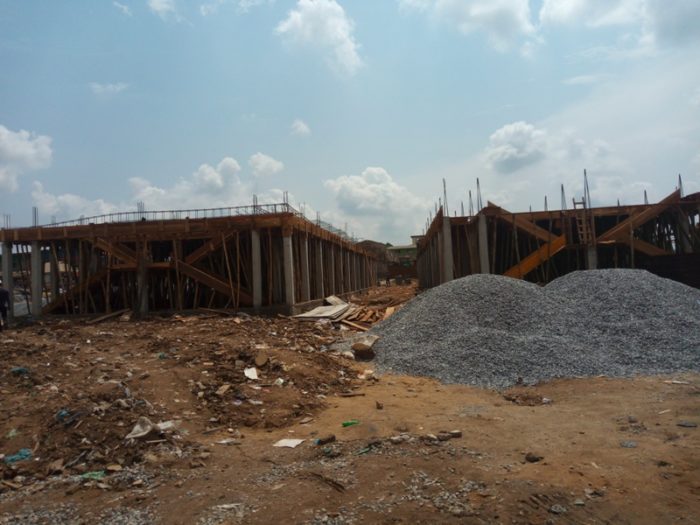 By Kazeem Ugbodaga
Massive work has begun on the N2 billion redevelopment of the popular Ile-Epo Market in Abule Egba area of Lagos, Southwest Nigeria.
The market was demolished recently to pave way for a modern market befitting the Lagos mega city status.
The market is being redeveloped by the Agbado Oke-Odo Local Council Development Area, LCDA, in conjunction with Total Value Integrated Limited, the developer providing the funding for the project under a Public-Private Partnership, PPP, agreement.
A visit to the market on Thursday revealed that construction has begun in earnest with some of the buildings already in decking stages.
Managing Director, Total Value Integrated Limited, Chris Onyekachi said much progress was being made in the redevelopment of the market, saying that the first phase would be completed within four months.
He said the traders, who had been given alternative places to trade were cooperating with the developer to make the work faster, adding that about 800 shops and over 1000 K-Clamp would be built in the market to carter for the needs of traders.
Onyekachi said traders who owned shop in the old market would be considered first on completion of the market as they would be given shops at subsidised rate, adding that the shops would be affordable.
He added that after the old allottees had been well catered for, new allotees would pay more than what the others had paid, but noted that it would be at affordable prices.
The site engineer for the project, Temilola Abiodun said the progress of work so far in the last four weeks was 30 percent completion, adding that in the next few months, the first phase would be completed.
The Secretary, Hausa Traders Association, Ile-Epo Market, Idris Khalid said at the initial time when the market was demolished, the Hausa traders were scared, but that upon assurance by the developer and the progress of work so far, that fear had been erased, adding that "we are sure of getting allocations once the market is completed, we are no longer afraid."
Secretary, Ayo Bami Complex, Ile-Epo , Cynthia Agueze said the traders were cooperating well with the developer, adding that the traders were happy that the market was being redeveloped, while urging the developer to ensure that the cost for shops would not be too high.
The Baba Oloja, Ile-Epo Market, Dr. Kareem Abdullahi said the traders were in support of the redevelopment of the market, saying that they had been holding regular meetings with the developer so that the traders would be well accommodated on completion of the market.
Chairman, Agbado Oke-Odo LCDA, Augustine Arogundade had said that none of the traders who owned shops in the old market would be left out as they would be considered in the allocation of spaces in the new market, adding that "We want to accelerate the development of the market and we have been meeting with the stakeholders to ensure everything goes on smoothly."